Despite losing to One Championship bantamweight title holder Bibiano Fernandes in March, Australian based Martin Nguyen (11-2) is hell-bent in making history by becoming a three-division world champion.
That goal begins this Friday in the Philippines when he faces local fighter Kevin Belingon (18-5) who comes into the contest on a five fight winning streak for One Championship interim bantamweight title.
"Mad respect to Kevin Belingon for accepting this challenge," Nguyen told the media gathered at the City of Dreams in Manila.
"He didn't have to, but he did. And that just speaks volume of the kind of warrior this guy is. I have complete and total respect for a martial artist with his values and principles.
"In a huge way, I see a lot of similarities between us. We are both hungry, and we are both determined for victory. I have worked extremely hard for this match-up and I am set on my goal, which is the One bantamweight world championship and to become a three-division world champion and make history.
Nguyen, a team-member of Sydney's KMA Top Team, has won seven of his last eight fights. Nguyen claimed the promotions featherweight belt with a stoppage over the previously undefeated Marat Gafurov, whom had defeated the Australian earlier in his career. Nguyen straight away made the move to lightweight and claimed the title with a second-round knock-out over Eduard Folayang. In his following fight he attempted the trifecta of title belts but came up short in a split-points decision loss to Bibiano Fernandes before returning back to featherweight to defend it successfully against Christian Lee.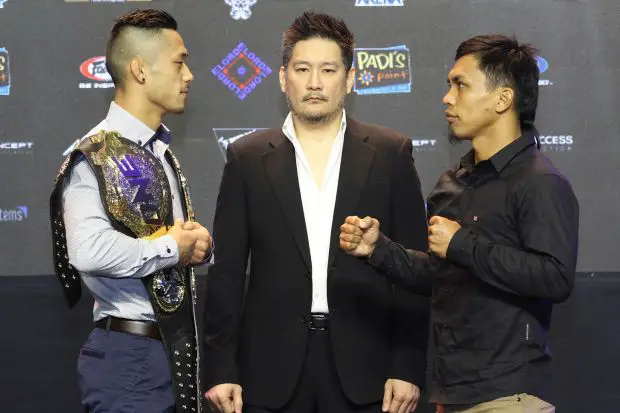 Despite the Bibiano Fernandes loss, Nguyen's stellar run had him nominated in three categories at the World MMA Awards including International Fighter of the Year and Breakthrough Fighter of the Year.
Nguyen has no doubt that he can still become a three division title holder
"Nothing can stop me from achieving that goal. I feel that this is my time," the 29-year-old added.
The card is jam-packed with MMA legends and future stars with an intriguing co-main event pitting submission specialist Shinya Aoki (40-8) against Thai fighter Shannon Wiratchai while MMA and BJJ legend Renzo Gracie (13-7-1) makes a return to the cage. The 51-year-old will face veteran Yuki Kondo (54-34-9).
Also on the card former Lightweight champion Eduard Folayang (19-6) will face undefeated Russian Aziz Pahrudinov (20-0-1). Submission specialist Garry Tonon (1-0) returns for his second pro Mixed Martial Arts bout and will face India's Rahul Raji (5-2).
The event, One Championship: Reign of Kings takes place at the Mall of Asia Arena in Manila on Friday night and can be viewed free on the official One Championship mobile app.
Main Card:
Martin Nguyen vs. Kevin Belingon – Interim bantamweight title
Shannon Wiratchai vs. Shinya Aoki
Renzo Gracie vs. Yuki Kondo
Eduard Folayang vs. Aziz Pahrudinov
Garry Tonon vs. Rahul Raju
Armen Petrosyan vs. Chris Ngimbi – Super Series (Kickboxing)
Panicos Yusuf vs. Han Zi Hao – Super Series (Muay-Thai)
Preliminary Card:
Joshua Pacio vs. Pongsiri Mitsatit
Chamuaktong Fightermuaythai vs. Brown Pinas – Super Series (Muay-Thai)
Rene Catalan vs. Stefer Rahardian
Sor Sey vs. Xie Bin
One Championship Full Fight: Martin Nguyen vs. Christian Lee 2