It was a very successful night for the two Australian competitors on One Championship: Legends of the World in Manila last night.
In the main event, Sydneysider Martin Nguyen shocked the world once again, becoming One Championship's first two division world champion by capturing the lightweight title with a vicious overhand right KO stoppage of Filipino striker Eduard Folayang in the second round.
The first round was fought out rather tentatively by both combatants. It played out to be an even back and forth display. Nguyen controlled the center of the cage and aimed to mix his strikes up, but he was unable to connect cleanly in the initial stages of the fight. Folayang backed away for the most part, but engaged with kicks and spinning attacks. At one point, Nguyen aimed for the takedown, yet was unsuccessful in his attempt against the visibly bigger Folayang. As the two fighters clinched, Folayang went for a judo throw, however Nguyen ended up on top towards the end of the round.
In the second round, Folayang continued to be aggressive with his kicks and spinning attacks. Folayang attempted for a take down of his own, Nguyen defended well. As Folayang propelled himself into a spinning heel kick, Nguyen connected with a perfectly timed overhand right which knocked Folayang out on impact putting a stoppage to the match at 2:20 of round two.
Martin Nguyen KOs Eduard Folayang
to become the first 2-division One champion pic.twitter.com/TueUy2Nycc

— Jolassanda (@Jolassanda) November 10, 2017
With the win, Nguyen (10-1) adds another One Championship title to his name and is now the reigning featherweight and lightweight One Championship title holder. Post match, former champion Folayang drops to 18-6.
Nguyen stated following the victory, "This is a special place for me. Last year, I came in and won Fight of the Night, right now it's possibly the Knockout of the Night. I think coming into the fight my main objective was a TKO or a submission. Eduard, I still love you like a brother, I hope you're fine and I hope you come back stronger. I'm still your number one fan."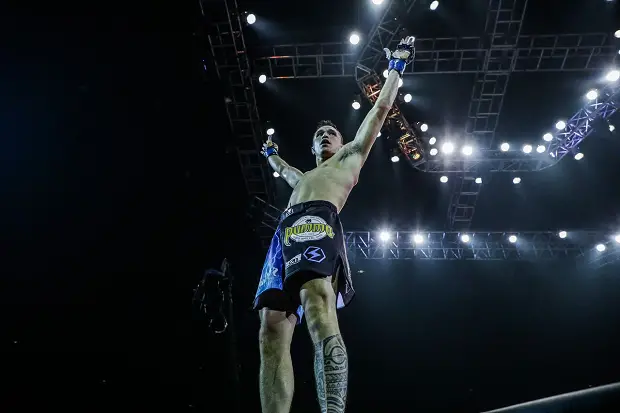 Also on the card, fellow Australian Reece McLaren was impressive in his first round submission victory over Thai fighter Anatpong Bunrad. Initially Bunrad looked to be edging McLaren in the stand up. McLaren was then able to achieve a takedown. He then began working to control his opponent on the ground, while also being active with his elbows. As Bunrad tried to pop back up onto his feet, McLaren then picked Bunrad up and slammed him down heavily onto the canvas. McLaren again went back to work on the ground, attacking with multiple submission attempts, eventually sinking in a tight D'Arce choke forcing Bunrad to tap just seconds away from the bell signalling the end of the round.
With the the victory, McLaren (10-5) gets back into the winning column after a two fight skid since his title match loss against Bibiano Fernandes late last year. Bunrad drops to 5-4 following the match.
In the co headliner, Brazilian Adriano Moraes proved to be too strong on the ground for local Filipino fighter Danny Kingad, retaining his flyweight title. After catching a kick from Kingad midway through the first round, Moraes then brought Kingad down onto the ground, and with persistence in his grappling offense managed to secure a rear-naked choke submission late in round one.
Results:
Martin Nguyen (Australia) def. Eduard Folayang via KO (Punch), Rd 2, 2:20
Adriano Moraes def. Danny Kingad via Submission (Rear-Naked Choke), Rd 1, 4:45
Kevin Belingon def. Kevin Chung via Unanimous Decision
Alex Silva def. Hayato Suzuki via Submission (Armbar), Rd 1, 1:22
Reece McLaren (Australia) def. Anatpong Bunrad via Submission (D'Arce choke), Rd 1, 4:52
ZhiKang Zhao def. Thai Rithy via Submission (Rear-Naked Choke), Rd 1, 2:3
Gina Iniong def. Priscilla Hertati Lumban Gaol via TKO (Strikes),Rd 2, 2:12
Joshua Pacio def. Roy Doliguez via KO (Spinning Backfist),Rd 2, 0:38
Chao Xie def. Kelvin Ong via TKO (Strikes), Rd 1, 1:48
Xuewen Peng def. Phat Soda via submission (Rear-Naked Choke), Rd 1, 2:15
Adrian Pang to face Amir Khan at One Championship: Immortal Pursuit