Following back-to-back events last weekend which included four title fights, Fight News Australia caught up with one of the promoters, Cam O'Neill for a quick Question & Answer regarding the Eternal 57 & 58 events as well as the canvas, which struggled under the extreme humidity.
Fight News Australia: Two events back-to-back, have you recovered?
O'Neill: The recovery I got was being able to sleep in until nearly 10 am on Monday, Ben [Vickers] and I pretty much work 365 days a year, it's the only way that we are able to keep this pace.
Q: The amateur fighters brought the action early and started the nights on the front foot, especially on Saturday I thought. Matty Iann vs Levi Gonzalez was amateur MMA at its finest. How happy with you with how the amateur fights went down?
A: All twenty-one fight's over the two nights were superb, each and every fighter stepped up and gave the performance of their lives in front of huge crowds at both events. There were so many stand-out performances in the prelims it was very difficult to separate. On Friday night all four prelim fights delivered a mix of technical ability and pure heart, it was impossible not to mention Selina Mongi's display who won our "Performance Of The Night" and we award her the $1,000 prize.
Saturday night's prelims had a tough act to follow, and all 14 fighters delivered. Right from the opening horn Dean Tromans and Sam Grigg set the pace for others to follow. Again, some outstanding performances and fantastic fights made the choice of Levi Gonzalez vs Matty Ian as our "Fight Of The Night" a difficult one.
Overall we are very happy with the prelims cards on both events. The level of talent coming through Eternal at all levels is very exciting and it makes for some cracking fights in the future as we deepen our divisions nationally with the very best talent.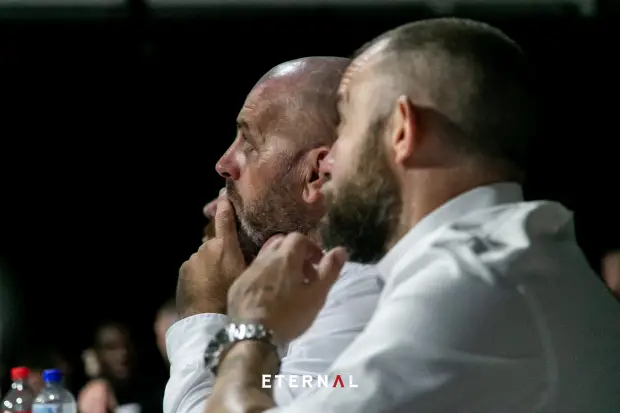 Q: Let's talk about the champs from the weekend. John Martin-Fraser looked unstoppable in his middleweight title fight. It certainly finished the weekend in style, didn't it?
A: I had been looking forward to this fight since I matched it months ago, and where it was placed on the card effectively made it the main event for the full weekend. Then to sit through the crazy fights that came before it, I thought surely these middleweights wouldn't be able to keep the same pace as the previous fights in this crippling humidity. I was wrong! Both boys came out with bad intentions and a determination to leave with the belt and it made for a cracker.
The first round was a classic. Both fighters showed impressive technical ability everywhere and it was a war that had both boys still in each other's face needing to be separated by the referee at the bell [of the first-round].
The competitiveness and will to win from both boys was written all over their faces at that point and I loved it, this was a worthy main event to what was a huge weekend of MMA for Australia.
Q: For many, Dan Hill was an outsider to defeat Josh Togo but he managed to pull off the upset and did it in style. How do you see his potential match-up against Brentin Mumford going?
A: Josh Togo was an outstanding champion.  He is talented everywhere and fights very intelligently and he looked good on Saturday as the fight started. Dan stuck to a great gameplan and matched him everywhere coming into the fourth where Dan secured the choke and a fantastic well-deserved win.
I'm sure Dan will approach the Mumford fight with a gameplan also and everyone can expect an absolute classic.
Q: The featherweight champ Jack Jenkins is calling for a shot on Dana White's Contender Series. Should that not eventuate, who do you see in contention to face him?
A: Jack had a very impressive first title defence and is the "stand out" featherweight in Australia right now, we have another tough title defence lined up for him, you will hear about it very soon.
Q: Sam Hibberd rolled past Toby Meech for the bantamweight title. Shaun Etchell was previously announced as the number 1 contender and a worthy challenger but what's the aim with some of the other challengers like Trent Girdham or Aaron Blackie who is supposedly coming back to bantamweight?
A: Sam's first defence will be against Etchell, and it will be a quick turnaround for the new champ. Expect an announcement very soon [Fight was announced on Friday, 26 March 2021].
The bantamweight division is really starting to liven up, and we have a few guys up around the top 5 in the country looking to get back in the mix.
ETERNAL MMA 59 | MELBOURNE | FRIDAY MAY 7
TICKETS: https://bit.ly/3d9HEbj

Melbourne! We. Are. Back! Coming off a slick,…

Posted by Eternal MMA on Friday, March 26, 2021

Q: Mitch Martin (8-0) vacated that bantamweight title for personal reasons. Any word on him coming back?
A: I don't think anyone but Mitch knows if and when he will come back. It's funny, Mitch vacated the belt to concentrate on his business as he didn't really see any challenges for himself out there anymore. Then we announced the bantamweight tournament and Mitch reckoned it sounded a good idea and asked the question if he could be in the tournament. Mitch competes in MMA for the challenge, I think if he sees someone out there that interests him in fighting, he may come back.
He might be right, there's no bantamweight out here in Australia he needs to prove himself against but Sam's [Hibberd] in pole position at bantamweight in Australia so up to Mitch.
Q: There is a lot of hype on Josh Kuhne who brings a massive audience every time he fights. Saturday's finish may have come under controversial circumstances but he got the job done early again. How quickly do you see him working his way to a title challenge?
A: Josh has a lot of hype building behind him, and rightly so. He has 5 fights for 5 KO wins and averages less than a minute of cage time per fight. As a pro he is 2-0, and lightweight is a deep division full of talented fighters. Let's just see how things play out in the division over the next couple of fights but if he continues the way he has started he's going to be impossible to ignore in that conversation.
Q: On to the canvas. There was a lot of criticism for the slippery surface of the canvas, particularly Saturday night. Knowing you, it's something that would have left you very frustrated. Can you give us an update on what happened and any changes going forward?
A: We started using the synthetic canvasses in both Perth and Gold Coast nearly 3 years ago, the covering is a porous synthetic material that is meant to wick the water away from the canvas and expel it. The idea is that it is more hygenic and much easier underfoot as it holds no water, on Saturday night it failed badly. The humidity inside the venue was incredibly high as the weekend's storm had been building since Friday, and everyone and everything was wet, there was that much water coming off fighters through the night that the canvas just couldn't handle it, the storm started just before the [Brentin] Mumford vs. Dimps [Gillies] fight and that was when it was at its worst. After Friday night we had to clean and sanitise the canvas which may have played it's part.
We have never had an issue with that style of canvas in Perth but the humidity there is nowhere near Queensland levels.
We have ordered 3 new canvases and they will all be here in time for upcoming shows.
Yes, it was very disappointing, but at the time I was more concerned about fighter safety.
---
Eternal on Friday announced their next event as they return to Melbourne with an event scheduled for Melbourne Pavilion on 7 May. Sam Hibberd will be defending his bantamweight championship against Shaun Etchell.