Jack Jenkins remains the Eternal featherweight champion with a clinical display over Jesse Medina on Friday night at Eternal 57.
It was a largely cautious first-round. The two ended up against the cage in the early seconds with both taking turns in trying to take their opponents back as they jostled for superior position. Jenkins, who trains out of Absolute MMA, was pin-point with his leg kicks and by the end of the first round, they were taking their toll on Medina.
When Medina stood up for the second round, he was noticeably limping. Jenkins capitalised and didn't take long before Medina was on the canvas, dropped by a heavy leg-kick. Jenkins signaled for Medina to get back up. The champ unleashed strikes against the cage, dropping Medina again and as Jenkins followed up, the referee jumped in to halt the contest.
The official time came 31-seconds into the second round.
With the win, Jenkins avenges a 2017 loss to Medina and he gave credit to his opponent in his post-fight speech, acknowledging that Medina showed him great respect after winning the first encounter and he wants to return the favour here.
With the event being broadcast live on UFC Fight Pass, Jenkins also called for a step up in competition.
"There is a Dana White's Contender Series in June. I heard we possibly have another Eternal champion on it. Let's get a second one on it and run a UFC Fight Pass Eternal contender."
"I'm ready for that next level so let's do it," he added.
After the bantamweight tournament was scrapped due to fighter pull-outs, Absolute MMA trained Sam Hibberd and Toby Meech from Integrated MMA were left to fight for the vacant bantamweight title.
Hibberd made his intentions known early, quickly changing levels to get under the arms of Meech and take it to the ground. Hibberd wasted no time in attacking with submissions and locked up the anaconda choke. Meech desperately looked to move away but was choked out and the referee halted the contest.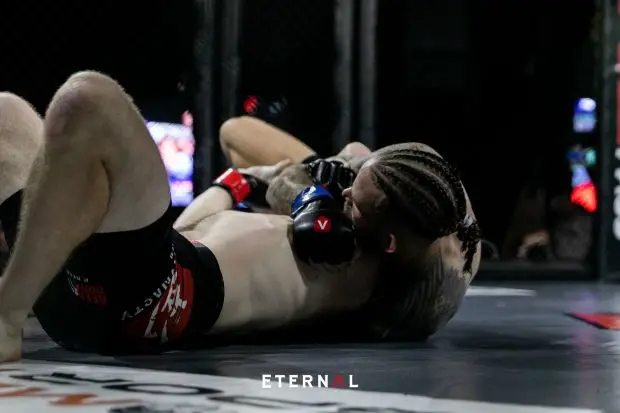 The end came 1:05 into the bout as Hibberd takes the Eternal bantamweight title home. He moves to 9-3 as a pro while Meech drops to 3-2.
Up next for Hibberd will be Shaun Etchell who was originally scheduled to compete in the tournament. Hibberd acknowledged Etchell respectfully calling him out before adding, "You are next."
Paul Loga scored a second consecutive victory with an impressive decision win against One Championship veteran Sotir Kichukov. The Sassom MMA trained fighter didn't give Kichukov an opportunity to settle and was able to outstrike his Bulgarian opponent for a unanimous decision win.
In the first fight of the main card, Sam Dobb and Nick Kepu were making their pro debuts and put on an entertaining fight in the middleweight division. Kepu looked strong in the early rounds and looked to be taking the fight only for Dobb to finish strong. In the end, though, Kepu was awarded the split decision win.
The pro main card was broadcast live on UFC Fight Pass with the undercard on Youtube.
Results (Pro):
Jack Jenkins (c) def. Jesse Medina via TKO (Strikes), Rd 2, 0:31– Eternal featherweight title
Sam Hibberd def. Toby Meech via Submission (Anaconda Choke), Rd 1, 1:05 – Eternal bantamweight title
Paul Loga def. Sotir Kichukov via Decision (Unanimous)
Nick Kepu def. Sam Dobb via Decision (Split)
Results (Amateur):
Alastair Volders def. Ryan Cooper via Decision (Unanimous)
Selina Mongi def. Ashlinka Rachwalski via TKO (Punches), Rd 1, 1:02
Casino Williams def. Sel Berdie via Decision (Split)
Sam Marles def. Blake Wilson via Decision (Unanimous)
Eternal 56: Cody Haddon stops Mark Familari with vicious body punch