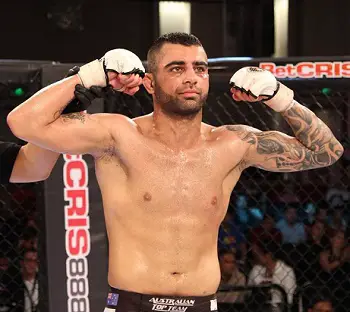 Aydin Mrouki
Age: 24
Place of Birth: Baghdad, Iraq
Fighting out of: Sydney, Australia
Gyms/Affiliations: Australian Top Team
Weight Division: Featherweight
Pro MMA Record: 1-0
Amateur MMA Record: 4-2
Other Combat Sports Records:
Multiple Brazilian Jiu Jitsu State and National titles (White, Blue, Purple belt), Amateur Australian Featherweight MMA Title.
FNA: When and how were you first introduced to martial arts?
Aydin: Growing up I was always getting into fights. I would always go home and try to think of new ways to move or punch, I would obsess over it. Knowing I really didn't have the tools to pull off what I wanted, I asked a friend, who was an amateur boxer, to take me to his gym but instead he pointed me to a local MMA gym. I had absolutely no clue what MMA or BJJ was but tried my first class in January 2009 and haven't stopped since.
FNA: Describe your martial arts background?
Aydin: Unlike most, I had never watched the UFC or ever even considered martial arts to be something I wanted to do prior to 2009. About two months into training I got into a street fight where I took the guy down and mounted him on instinct and I could not believe that BJJ actually worked out in the real world, that moment basically changed my life. I stopped hanging out on the streets, started training full-time, and focused all my time and effort into competing.
FNA: What would you say are your strongest attributes in MMA?
Aydin: Definitely my ability to read opponents.
FNA: How would you describe your fighting style?
Aydin: The new age. I truly believe boxing is the most superior striking art in terms of movement and the most refined. Adapting and bringing it into the new era of combat sports with a solid BJJ background is the new age.
FNA: Who do you like watching fight, locally and internationally?
Aydin: I love watching technically unique fighters who can completely shut their opponents out while taking minimal damage. Internationally, I love watching Prince Naseem Hamed, Floyd Mayweather, Jon Jones, Dominic Cruz, Tj Dillashaw and the list goes on. Locally, I don't pay too much attention.
FNA: Of all your fights to date, which one is the most memorable and why?
Aydin: My most memorable would have to be technically dominating and showcasing my skills against Jaypee Espinosa in Manila, Philippines on PXC. I got to taste the life of a fighter on a big show and I loved it.
FNA: Do you have any short or long-term goals in MMA?
Aydin: All my goals are short-term, everything I want to achieve, I want to achieve it and I work on achieving it today. My goals are always to better adapt my style and perform in my upcoming fight and to reach the pinnacle of the sport, being world champion is my goal.
FNA: Do you have any fights lined up at the moment?
Aydin: My next fight will be July 8 on Wollongong Wars, August 27 on Urban Fight Night and then hopefully will be back on PXC in September.
FNA: Sponsors/supporter shootouts?
Aydin: Huge thank you to my sponsors at Blacktown Physioclinic, I never believed in regular maintenance until I had a back problem that wasn't going away until Gokce Onku finally enlightened me on how important it is to keep your body in balance.
41 on Maple, before these guys jumped on board I couldn't even get a two pack at 66kgs but I ticked the six pack off my bucket list thanks to Manny and Jacky.
Australian Top Team, family understand each other so I really don't need to say much about my brothers and sisters at ATT, hands down best and most active team in OZ.
To all my friends and family, to all those who tune in, whether to see me succeed or fail, thank you and I love you all.