Australian Martin Nguyen has lost his One Championship featherweight title after he was knocked out by former 'The Ultimate Fighter' contestant Thanh Le in the third round last night.
The title fight was one of four championship bouts that occurred on the One Championship: Inside the Matrix card held at Singapore Indoor Stadium

After dominating the first two rounds, Nguyen was caught with a right hook in the third as he was walking Le down towards the cage, trying to engage him in the clinch, but his opponent, a Taekwondo black belt, poured the pressure on, securing the finish and the featherweight title. 
"Man it feels great, a million emotions running through me right now," 35-year-old Le said in his post-fight interview.
"I just want to say thank you to Martin and his team. I'm pretty sure I broke both of my hands.

"He's [a] champ for a reason, I know I'm gonna see him again in a few damn months. Come on, I'm ready. I know you're ready. Thank you for the match."

Nguyen, "The Situ-Asian" got off to a good start, walking Le down for the first two rounds, and coming out strongly in the third to pile on the pressure.

Nguyen landed a right hand on the jaw and looked to have Le hurt as he tried to wrestle. Nguyen then tried up the pace, but was caught by a right hand as he was coming in. After rocking him with the right hand, Le then put him and against the fence, before piling on the punches to force a referee stoppage.

"If he's going to come in here and keep his belt, he's got to come [and] get it," Le also added. "He was doing a great job listening to his corner, they're smart guys. It's amazing to be able to compete against a team like that and come out on top.

"The pressure was beautiful, but that's what gets you knocked out by me, stepping into that zone where I got to hit you and it happened again."

It's the first time Nguyen has been knocked out in his professional career. The loss takes his career to 13-4, while Le moves to 12-2. 

It was a better night in the cage for fellow Australian Antonio Caruso who claimed his first win in One Championship with an impressive unanimous decision win over former One Championship Lightweight Champion Eduard Folayang.

Caruso managed to get off to a flying start landing a takedown early in the first round and managing to maintain top position for the remainder of the round. He then managed to drop Folayang with a big right hook early in the second round, which the 31-fight veteran managed to survive.

It was a close third round as the two stood toe-to-toe trading shots with Folayang managing to land several nice outside leg kicks, but by then it was too late.

Caruso was awarded a unanimous decision win in what was a must-win fight for his Filipino opponent who is now on a 2-fight losing streak and lost 4 out of his last 5 fights, with one of those losses being to former UFC Lightweight Champion Eddie Alvarez.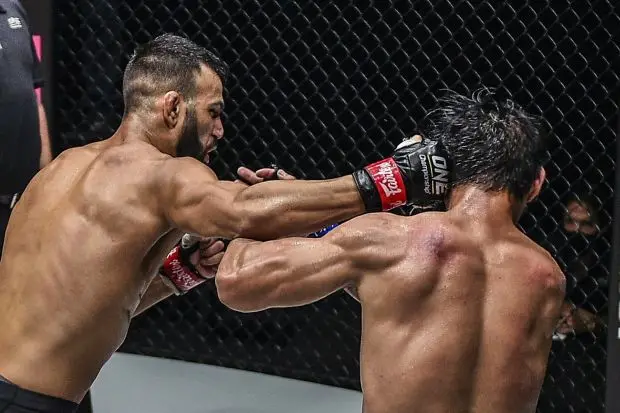 Results:
Reinier de Ridder def. Aung La Nsang via Submission (Rear-Naked Choke), Rd 1, 3:26 – One light-heavyweight title
Christian Lee def. Iuri Lapicus via KO/TKO (Punches), Rd 1, 2:19 – One welterweight title
Thane Le def. Martin Nguyen (Australia) via KO/TKO (Punches), Rd 3, 2:19 – One featherweight title
Jingnan Xiong def. Tiffany Teo via Decision (Unanimous) – One women's flyweight title
Antonio Caruso (Australia) def. Eduard Folayang via Decision (Unanimous)
Ritu Phogat def. Nou Srey Pov via KO/TKO (Ground and Pound), Rd 2, 2:02
Martin Nguyen out to 'defend featherweight legacy' against Thanh Le at One Championship 'Inside the Matrix'