Martin Nguyen knows a thing or two about moving up and down weight classes.
After winning the featherweight title in 2017, Nguyen quickly made history by winning the lightweight title only months later and becoming the first two-division champion in One Championship history.
He then attempted what has never been accomplished before, Nguyen dropped to bantamweight in an effort to win his third One Championship title.
The unsuccessful attempts at a third title made Nguyen realise the featherweight division is where he belongs. Now riding a two-fight winning streak defending his featherweight strap, the Aussie is adamant the featherweight division is where he wants to build his legacy moving forward.
"It doesn't motivate me to be jumping divisions anymore," Nguyen told Fight News Australia.
"I feel like I've come to that stage where I've been there done that. This is my legacy; I feel like the featherweight division is where I belong. Unless I get the right fight, for me it's all about cementing where I am best and that is in the featherweight division."
Nguyen will get that opportunity for the first time in 2020 when he defends his featherweight crown against Thanh Le.
Le has been a wrecking machine since joining One Championship in 2019, picking up three knockout victories. Before joining One, Le also picked up a knockout win on Dana White's Contender Series.
"It's kill or be killed," Nguyen said of the upcoming match-up.
"We are both pressure fighters, dynamic strikers and we always go for the kill, no matter what."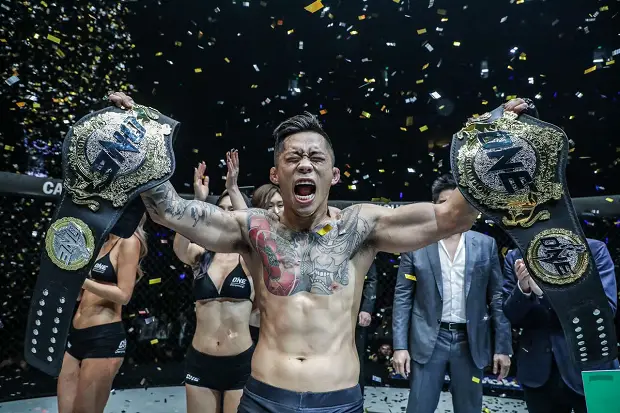 Like many people's plans for 2020, Nguyen's ambitions of a busy year in the cage were derailed due to COVID-19. Despite this, Nguyen has sharpened his skills with some of the best fighters from across the world.
Back in June, Nguyen was invited to Wollongong by Freestyle Fighting Gym's head coach, Joe Lopez, to help UFC featherweight champion Alex Volkanovski prepare for Max Holloway.
It was an Australian super camp of sorts, including UFC fighters Jamie Mullarkey, Joshua Culibao, and the champion Alex Volkanovski.
"Training with Alex (Volkanovski) was a blessing," Nguyen said.
"Alex is the best in the world at featherweight in his organisation and I'm the best in the world in my organisation and it was good to rub shoulders. It was good to rub off on each other and share the hard work and ethic in one room. We have all come a long way from the amateur days and turning pro and starting our journey, it was a good time."
The time training with the UFC champ was then supplemented by training with the former Bellator lightweight champion and now UFC fighter Michael Chandler in Florida at Sanford MMA. A move that Nguyen says has elevated his game beyond measure.
"I get to train with world-class athletes every single day. These guys are hungry, they are role models. For me to even be in the same room and train alongside guys like Michael Chandler, who has been one of my main training partners throughout this whole camp is a blessing. I am honored to train with this guy and it has made my skills go to the next level."
Nguyen is confident training alongside these fighters will bring out the best of him when he attempts to defend his featherweight title once again.
"The majority of my victories have been at featherweight," Nguyen said.
"I feel like I can be and I am currently unstoppable in that division, so I am just going to do me and keep defending this legacy that  I have built."
Antonio Caruso confidently seeking a win over 'highlight fighter' Eduard Folayang