With Israel Adesanya's middleweight title unification fight with Rob Whittaker officially announced for UFC 243 in October, the interim-champion has started to let off more verbal jabs.
"There's no animosity, it's just fighting," Adesanya said in an interview with MMA Fighting.
"We're going to fight, but the guy (Whittaker), he backtracks a lot. He says something in real life and then says, 'I'm sorry I hurt your feelings,' don't try and play the nice guy now."
Later on, Adesanya was asked about the potential training between Whittaker and Jon Jones, claiming that it's "a little mean girls club."
He continued claiming, "He needs Jon, he needs f***ing God to help him beat me. I've got the team that got me here and that's who I'm going to use to beat him as well."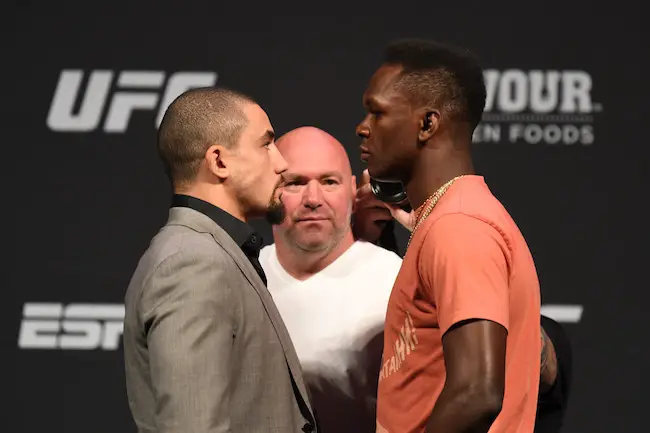 Adesanya went on to say Whittaker isn't the real champion of the 185-pound division, claiming he never beat anyone to take the undisputed title.
"He's never, ever beat anyone to become the undisputed champion, so now this is his chance to try and become the undisputed champion. Guess what, it's my chance to become the unified undisputed champion as well. He's not the champ, he won the interim belt that's still the old, vintage f***ing belt, I've got the new flex."
Adesanya is referring to the fact that undisputed champion Georges St Pierre gave up his title rather than losing it, which meant Whittaker (who beat Yoel Romero for the interim belt) was promoted to undisputed champion.
Adesanya will have his chance to become the undisputed champion should he beat Whittaker and has his eye on the winner of UFC 241's middleweight bout between Yoel Romero and Paulo Costa.
"I want the winner of Yoel Romero vs the juice monkey Costa. I'll leave the rest; a magician never reveals all his secrets" he said when asked about planning his future.
UFC 243 takes place on October 6th with the location still yet to be announced.