Gold Coast promotion Fightworld Cup returns with their fifteenth outing this weekend set to go down at the Nerang Policy Citizens Youth Club on Queensland's Gold Coast. The promotion will for the first time hold an entirely professional fight card which will be headlined by welterweight, featherweight, bantamweight and flyweight titles as well as the first women's MMA title set to take place at flyweight. 
The main event will be a local battle between two Gold Coast based fighters as Brentin Mumford from the Shindo New Breed gym faces off against Shane Gregory from the PUMMA gym for the Fightworld Cup welterweight title, recently vacated by Dan Pauling as he recovers from an injury. Mumford started his career off as a middleweight where he went 1-1, before dropping to welterweight. Since then though, Mumford has racked up three straight wins to earn himself a shot at the title. All of Mumford's career fights have occurred on the Fightworld Cup promtion. His opponent Gregory trains with UFC fighters Benny Alloway and Dylan Andrews. Gregory has also recently made the drop from middleweight to welterweight where in his lone fight at welterweight back in May, Gregory was on his way to win a decision against Tristan Murphy before he was submitted late in the fight to suffer his first career loss.
Impact MMA fighter Jacob Mahony will look to defend his Fightworld Cup bantamweight title for the first time when he faces Chris 'Kewl Bonez' Morris. "J-Money" Mahony is currently riding a four fight win streak at the moment, most recently taking out the Eternal MMA one-night four-man bantamweight tournament where he submitted Matthew George and Shantaram Maharaj back in May. Prior to that, Mahony had a come from behind win against Reece McLaren to capture the Fightworld Cup title. His opponent, Morris will be looking at rebounding following a first round TKO loss to Julian Rabaud back in July. Prior to that Morris defeated Shannon McClellan via unanimous decision.
In a feather bout for the Fightworld Cup vacant title, Sunshine Coast based fighter Callum Lewis will be looking handing Michael Tobin his first career defeat. In his last outing, Lewis fought in front of his home crowd at Fury MMA 6 back in June, where he defeated Mike Aarts via a first round TKO. Judoka Michael Tobin has really exploded onto the scene since making his debut back in August 2012. The Shindo New Breed fighter has captured the XFC and Eternal titles and will be looking at adding a third title with a win against Lewis. All five of Tobin's victories have come via a first-round submission.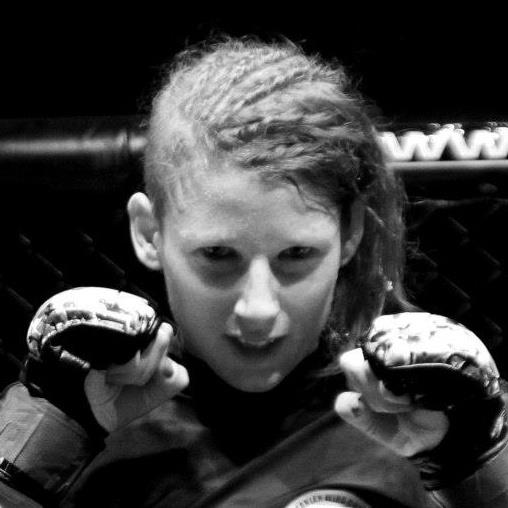 In what will be the promotions first women's MMA title fight, Tasmanian fighter Rhiannon Thompson (pictured right) will face off against Shindo New Breed fighter Kenani Mangakahia for the Fightworld Cup womens flyweight title. Thompson brings to the cage an undefeated MMA record which includes a head-kick knockout over Bec Hyatt and a submission over Linda Nikeller who is a training partner of Mangakahia. Mangakahia looked impressive in her debut back in April, where she submitted her opponent Tessa Green with a rear-naked choke. The tap came only 32-seconds into the fight.
Rounding off the title fights, will be a Fightworld Cup flyweight title fight between Brothers MMA fighter Liam Harley and Tim Moore. Both fighters bring a mixed record to the fight, however both have been forced to fight above their normal weight division in an endeavour to stay active. Moore has defeated One FC fighter Thanh Vu, with both fighters also having secured a first round TKO over Matthew George. Harley has remained active since his last outing back in November, having secured amateur boxing titles in that time.
Among the fights on the under-card, Integrated MMA fighter David Greaves faces off against Davin Marsh from the Ito Dojo while Fightworld Cup regular Jason Preece comes up against Ty Austin.
Fight Card (Pro):
Shane Gregory vs Brentin Mumford – Fightworld Cup welterweight title

Jacob Mahony (c) vs Chris Morris – Fightworld Cup bantamweight title

Callum Lewis vs Michael Tobin – Fightworld Cup featherweight title

Rhiannon Thompson vs Kenani Mangakahia – Fightworld Cup womens flyweight title

Tim Moore vs Liam Harley – Fightworld Cup flyweight title
Undercard (Pro):
David Greaves vs Davin Marsh

Jason Preece vs Ty Austin

Matthew Modistach vs Johnny Walker

Chris O'Donoghue vs Zak Keenan

David Meak vs Martin Tucker

Brett Jacobsen vs Luke Thorngaard

Corey Lynch vs Garrett Gross

Brad Gawthorne vs Peter Jefrey