It took Rick Alchin (pictured) less than two rounds to snatch the DBFC middleweight title from hometown hero Shane Mitchell.
Although Mitchell had some success on the feet, the Adelaide based fighter had no answer for the relentless takedowns and composed top control of the NSW Central Coast powerhouse, who took the win via triangle choke from on top.
It's been a hard road back for Alchin (16-14) after breaking his leg in his loss to Kiwi standout Brogan Anderson back in December.
Previously gunning for a spot on the UFC's roster with four straight victories behind him, Mitchell's (10-4) aspirations of joining the leading promotion's ranks take a hit with the result, his first defeat since way back in 2015.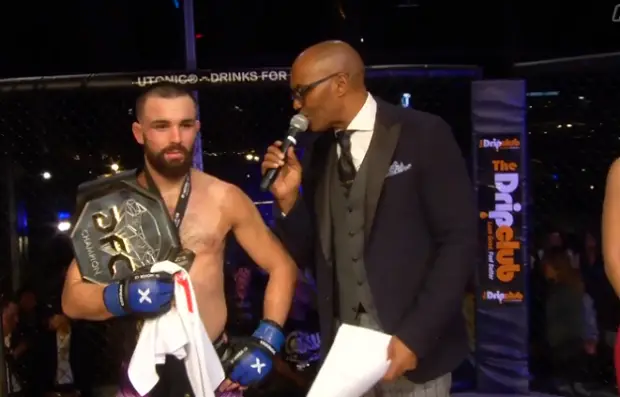 In what can only be described as a controversial result, Ethan Duniam was awarded a one sided unanimous decision against Greg Atzori in the co-main event, avenging a 2016 loss to the Queenslander in the process.
Duniam looked dangerous on the feet, landing the cleaner shots over the course of the fast paced contest. But in typical Atzori fashion, the local veteran was relentless with forward pressure and appeared to grind out his second victory over the Tasmanian by the end of the fight.
After five rounds the judges scored the bout an unbelievable 50-35, 48-47 and 50-35 for Duniam, who was also crowned the first DBFC lightweight champion. He moves to 10-5 with the result while Atzori drops to 20-11.
*Update: The promotion and the referee assigned for the fight have confirmed to Fight News Australia that there was an error in calculating the final scores and it should have been 50-45, 48-47 and 50-45. Fight News Australia has requested for a copy of the final scorecard to be provided.
*Update 22 August – Promotion has released a statement stating that scorecards were a split decision win for Duniam 50-45, 47-48 and 50-45. 
DBFC 6 took place in the William Magarey Room at the Adelaide Oval and was streamed live via FITE TV.
The next offering from the promotion is slated for November.
Results (Pro):
Rick Alchin def. Shane Mitchell via Submission (Triangle Choke), Rd 2 – Diamondback FC middleweight title
Ethan Duniam def. Greg Atzori via Decision (Split) – 50-45, 47-48, 50-45* – Diamondback FC lightweight title

Dan Currie def. Nick Edwards via Decision (Unanimous)
Joel Downey-Cave def. Goran Olujic via Submission (Guillotine Choke), Rd 1
Jake Hearl def. Ray Lawley via KO, Rd 2
Junior Moe def. Josh Frank via KO, Rd 1
Travis May def. Taylor Garrett via Decision (Unanimous)
Results (Amateur):
Harry Gabrielson def. Riley Payne via KO, Rd 3
Brad Walley def. Kyle Maistry via Decision (Unanimous)
Brando Pericic def. Garry Smith via KO (Punch), Rd 1
Dylan Adams vs. Ian Nguyen (Unanimous Draw)
*Scorecards were previously 50-35, 48-47, 50-35. The promotion and the referee assigned for the fight confirmed to Fight News Australia that this was a calculation error.
Ben Sosoli stops Mike Turner to claim heavyweight title at Diamondback FC 5