Melbourne's Benjamin Sosoli ventured into enemy territory on Saturday night at Diamondback FC 5 in Adelaide, and after almost three rounds of entertaining action with hometown favorite, and now former champion, Mike Turner, the Resilience Training Centre product walked away with the heavyweight title.
A full video replay of the event is available to purchase here.
The two combatants battled it out primarily on the feet for an action packed three rounds until Sosoli forced a TKO referee stoppage, as a result of a constant flurry of strikes in the stand up, followed up but successive ground and pound on a downed Turner.
In round one, Sosoli used his boxing to keep Turner at bay. Turner was active with good head movement and footwork in anticipation of avoiding damage. Turner then attempted a takedown which was stuffed by Sosoli. Sosoli continued to mix up his combinations. Turner connected with a nice bodykick, while Sosoli reciprocated with uppercuts. Turner again attempted a takedown, but Sosoli landed in a dominant position and began to rain down viscous ground and pound. Turner aimed to get back to his feet as the two were clinching, Sosoli, coached by UFC fighter Dan Kelly, managed to get a judo throw on his counterpart and began to pepper away with short sharp punches. Although Sosoli was in dominant position he opted to stand up and let the fight pan out on the feet. Turner looked to be comfortable in attacking with kicks, while Sosoli had a clear preference to use his hands as his main stand up weapons. Turner again looked for the takedown, but Sosoli easily shrugged off his attempt. Turner also used his jab well and implemented a variety of strikes as he pressured Sosoli to the fence. Sosoli reversed the clinch position and now had Turner against the cage. Sosoli then attempted a spinning back fist; Turner ducked out of the way. Both fighters met back at the centre of the cage and began to exchange strike for strike until the bell signaled the end of an entertaining opening first round.
Round two started just where it left off as the two fighters met at centre cage and began teeing off on each other. Sosoli connected heavily with multiple punches. As Sosoli looked to be in for the kill, Turner went in for a takedown which was this time successful. There, Turner attacked with ground and pound, but Sosoli defended well to avoid any major damage. Both combatants looked to better their positions as they locked up on the ground. The round ended with Turner actively pursuing for a submission attempt from top control.
After a grueling first two rounds of strenuous exertion, both fighters looked visibly drained, but they persisted to battle it out on the feet at a fast pace. Sosoli peppered away with his jabs and mixed up punches to the body. Turner initiated with low kicks. Sosoli resumed connecting with uppercuts and hooks. Turner reciprocated with a big hook which connected cleanly, but Sosoli looked to be unfazed and continued to box Turner. Turner's face looked cut up and heavily bruised as an exhausted Sosoli continued on to pepper away with punches. Turner was very valiant in his efforts, did not back down and with every blow received kept moving forward, but Turner was also visibly drained at this point.
A back and forth exchange ensued. Sosoli carried on to muster up rapid fire hooks and an extended flurry of strikes lead to the stoppage over a downed Turner, which now extends his winning streak to three. Sosoli's record now stands at 6-2 while Turner drops to 8-6.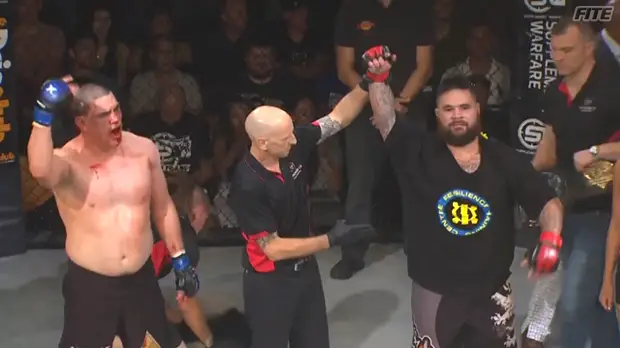 Joel Kendrick didn't need long to get the job done against local fighter Jarod Barke in the co-main event with the ATT Sydney product scoring a quick-fire, 24-second TKO. After dropping Barke with a left hand, Kendrick sealed the deal with punches on the canvas.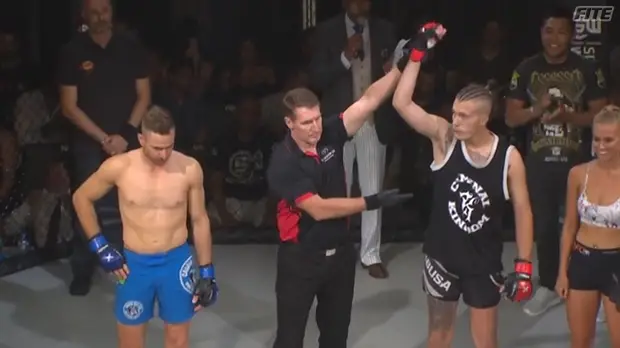 Among other fights on the night, Tasmania's Ethan Duniam made it 2-0 against Anthony Bynoe, outpointing the Adelaide fighter in an entertaining rematch of their DBFC 3 clash, where Duniam took home a second round submission victory.
Results (Pro):
Benjamin Sosoli def. Mike Turner via TKO, Rd 3– DBFC Heavyweight Title
Joel Kendrick def. Jarod Barke via KO (Punch), Rd 1
Ethan Duniam def. Anthony Bynoe via Unanimous Decision
Dan Currie def. Jay Mavromihalis via TKO
Nick Edwards def. Josh Frank via KO
Simon Leafa def. Alan Hartley via TKO
Matt Dockrill def. Brad Harrop via Submission
Tim Rogers def. Karim Kamara via Submission (Rear-Naked Choke)
* Results courtesy of promotion. Full results will follow shortly
Hometown underdogs emerge with inaugural belts at Diamondback Fighting Championship 4