Trinity MMA's Mike Turner and Cardioflex's Shane Mitchell both entered the Diamondback FC cage staring down the odds against their hyped and lauded opponents, Jeremy Joiner and Jason Radcliffe, for the inaugural heavyweight and middleweight title belts. By night's end, though, both local boys had triumphed, defying expectations by delivering dominant stoppage victories. It was an evening that stamped Adelaide's place on the national MMA map.
The event took place at the Adelaide Oval and was streamed live here at Fight News Australia.
Jason Radcliffe vs. Shane Mitchell (Main Event for Middleweight Championship)
The UK's Jason "Assasin" Radcliffe, now fighting out of Thailand, came to the cage carrying heavy expectations, possessing a Urijah Hall-like physique and KO victories on Bellator and The Contenders. His opponent, though, Shane "AAA" Mitchell was also a dangerous striker whose nine wins included eight via stoppage.
Round 1: Mitchell delivered an early flurry of punches but was then backed against the cage. Radcliffe maintained the clinch for minutes, but was unable to force a takedown or inflict much damage. When they finally broke, Mitchell again tried to push the pace, while Radcliffe was very slow and hesitant to engage on the feet.
Round 2: Radcliffe landed a well-timed takedown in very early stages of the round, but did not work to advance his position on the ground. Mitchell gestured to the referee to stand the fight back up; a plea that he eventually answered after a prolonged period of inaction. Radcliffe again initiated the clinch against the cage, but this time, when they broke, threw a pair of knees that looked to cause some damage. Mitchell, though, took advantage of this opening to counter with a punch and then a knee that left Radliffe stunned and hunched against the cage. Mitchell unleashed such a barrage of punches that the referee intervened and called it off, although Radcliffe remained standing.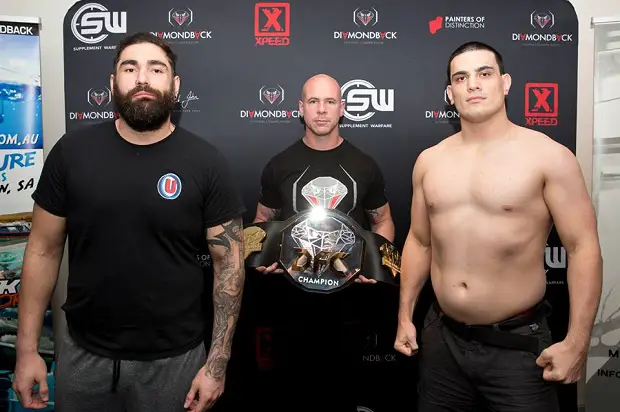 Jeremy Joiner vs. Mike Turner (Co-Main Event for Heavyweight Championship)
Jeremy Joiner walked to the cage draped in the Indigenous flag, his XFC title belt held aloft by one of his entourage. Joiner, walked into battle as Australia's top heavyweight, an undefeated fighter with savage strikes. Mike Turner walked out to John Cena's theme music with the refrain "your time is up, my time is now". These words were prophetic, with Turner locking in a choke in round two to claim the crown. Post-fight, he called out Dana White and Scott Coker, claiming that if they want the number one heavyweight in Australia, they need to come to Diamondback. He stated his desire to defend his belt at every single DBFC event.
Round 1: Turner shot for the take down and got it. From within full guard he dropped for a heel hook but was unable to cinch it, losing his position in the process. The fight returned to the feet, where Joiner asserted his dominance. Turner, knowing he needed to return to the ground, successfully scored a second takedown. While Turner briefly gained Joiner's back, Joiner reversed the position and obtained full mount, using his substantial belly to maintain control. The fighters scrambled to their feet, where Joiner unleashed immense savagery with his hands. Turner, while visibly hurt, demonstrated a solid chin that was able to withstand the beating long enough for the bell.
Round 2: Having felt the power of Joiner's hands in the last round, Turner immediately sought and obtained the single leg takedown. After a few brief transitions, Turner locked in the head and arm triangle choke from half-guard, forcing Joiner to tap.
Sam Jo Toetu vs. Josh Frank
Round 1: Toetu was holder of two post-fight bonuses at Diamondback. After having a pedicure from officials, he demonstrated some fancy footwork and Anderson Silva style taunting of his opponent. He was perhaps a little too cocky in the early stages. After catching a kick by Frank and raining down a heavy hammer fist, Frank drew Toetu to the ground. Frank gained Toetu's back and worked for the choke, riding his opponent like a jockey on the feet. Toetu was forced to carry his opponent's weight for a number of minutes, as Frank perched on the Samoan's back and then on his side like an oversized baby. Toetu finished the round in top position after reversing a Frank takedown attempt.
Round 2: Toetu utilised vicious and innovative striking, landing spinning backfists and powerful combos. After a brief foray to the ground, Toetu landed a strong uppercut in the transition to the feet. Frank looked fatigued, keeping his hands low. Toetu took advantage of the opening in his opponents defences, slamming him with a hurricane of a left hook before finishing him off with a pair of punches on the ground.
Michael Mannu vs. Jamie Renouf
Round 1: Renouf pressured Mannu against the cage and gained the take down. Mannu attempted a triangle but it was loose, allowing Renouf to return to the feet. Mannu attempted a knee bar but was unsuccessful. Renouf landed some heavy knees from the clinch. The two fighters spun like they were waltzing during a clinch, before separating. The round was closed with a chaotic exchange that left Mannu bloodied.
Round 2: Mannu emerged from his corner with the intent to force the pace. He landed three or four heavy leg kicks that had Renouf seeking the takedown. In a scramble, Renouf over-committed to a headkick, slipped and fell to the floor. Mannu took advantage of this error to gain back position and lock in the rear naked choke.
Aydin Mrouki vs. Alan Hartley
In the nights only decision, Aydin Mrouki defeated Adelaide's Alan "Happy" Hartley in a curiously split decision. While Hartley, with his hyperactive striking, was quite effective on the feet, Mrouki enforced his will and dictated where the fight would take place, landing many dominant takedowns and almost locking in rear naked chokes in the second and third rounds. Hartley did stun Mrouki with a head kick in the third round but failed to capitalise.
Results (Pro):
Shane Mitchell def. Jason Radcliffe via TKO, R 2, 4:23 – Diamondback FC middleweight title
Mike Turner def. Jeremy Joiner via Submission, Rd 2 – Diamondback FC heavyweight title
Sam Jo Toetu def. Josh Frank via KO/TKO, Rd 2, 4:50
Michael Mannu def. Jamie Renouf via Submission (Rear-Naked Choke), Rd 2, 3:20
Aydin Mrouki def. Alan Hartley via Decision (Split)
Lachlan Dart def. Karim Kamara via TKO
Results (Amateur):
Jay Mavromihalis def. Nick Edwards via TKO, Rd 1
Harry Gabrielson def. Mark Masefield via TKO
Tim Rogers def. Tom Hamilton via TKO, Rd 2
Results (Submission Only Grappling):
Declan Moody def. Elton Batty via Submission
Devon Coetzee vs. Jordan Crispin (Draw)
Diamondback FC 3 Recap: Ethan Duniam stops Anthony Bynoe in the main event