It was a tough day for Australian MMA fans today with only one Australian fighter out of eight getting a victory at UFC Adelaide. There were moments of brilliance, moments where the Aussie fighters came close, but ultimately the Australian takeover hit a speed bump tonight.
Jimmy Crute Def Paul Craig via Submission (Kimura) Round 3 – 4:51
Jimmy Crute gave the home crowd their first and only victory Australian victory of the night. Paul Craig was looking for the takedown early and got it, but ended up in a head and arm choke for most of the first round. It was clear that Craig did not want to stand up with Crute, who was having some success with his hands early on.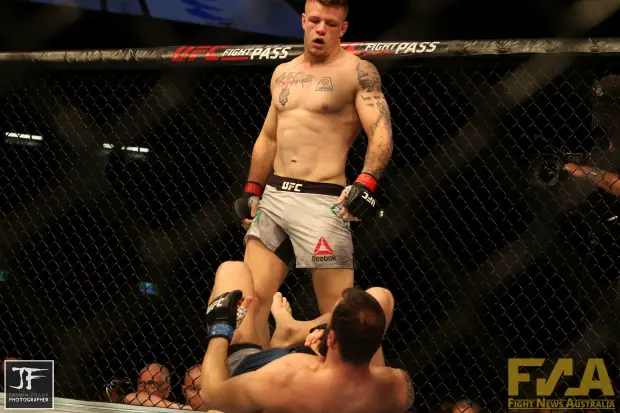 Despite getting taken down multiple times, Crute handled himself with composure and won most of the exchanges on the ground.  After ending up on the canvas again in the final round Crute locked up another head and arm triangle that looked deep, but Craig was able to slip out.
Craig's didn't have much time to celebrate though as he found himself in a Kimura and then forced to tap to with just nine seconds left on the clock (video).
Suman Mokhtarian Def Sodiq Yusuff  via TKO in Round 1 – 2:14
Suman Mokhtarian's undefeated record came to an end at UFC Adelaide by TKO in the first round against Sodiq Yusuf. Mokhtarian was caught with a flurry of punches against the cage and the referee waved off the action despite Mokhtarian still standing.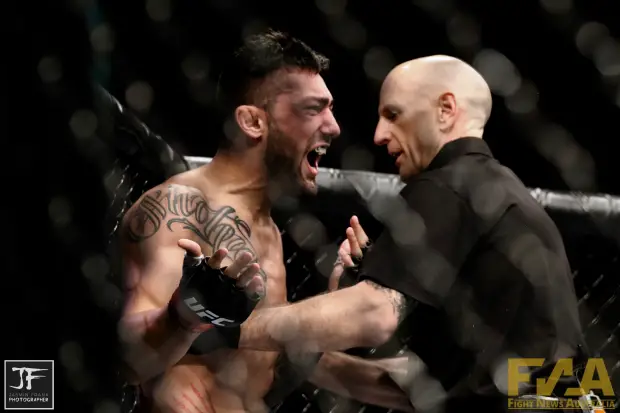 Moktarian was visibly disappointed with the decision, thinking the referee may have stepped in too early. The Australian Top Team co-owner left the Octagon without much of an opportunity to showcase his skills in front of the home crowd on debut.
Anthony Rocco Martin Def Jake Mathews via Submission (anaconda choke) in Round 3 – 1:19
There was a lot of movement early on with not much being thrown until Anthony Rocco Martin motioned to Jake Matthews that it was time to throw down.
The two fighters met in the middle in an exciting flurry which ultimately knocked Martin to the floor and into a guillotine attempt by Mathews, but Martin was able to survive.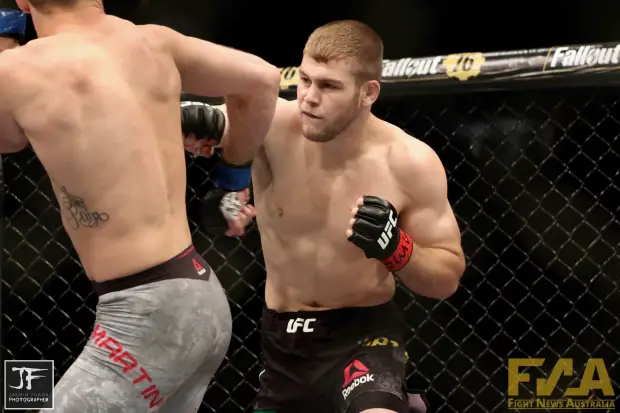 The second round saw more back and forth but not much happening with Mathews able to secure another round without too much struggle.
In the third round, Matthews looked like he was having trouble with his right leg but still kept pushing toward Martin. After a brief stumble, Matthews went for a takedown which ended in Martin taking his neck in an anaconda choke. Refusing to tap Matthews went to sleep, there was some controversy over how long it took the referee to intervene.
Justin Willis Def Mark Hunt via unanimous decision
Emotions were running high as the fans awaited Mark Hunt's final walk to the UFC octagon. The stadium went dark and a haka begun in the tunnel, Hunt emerged from the dark to the roar of the crowd and a few tears from the New Zealand and Aussie fans.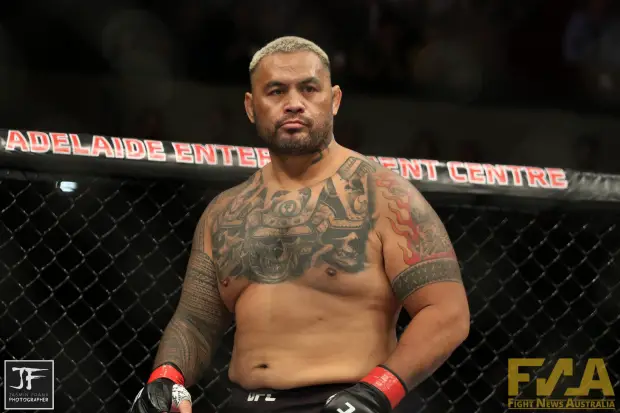 Unfortunately, Hunt was unable to make anything happen with Justin Willis just outscoring him in two out of the three rounds, cruising to a lack lustre decision victory.
Shogun Rua Def Tyson Pedro via TKO (Punches) in Round 3 – 0:43
The bout got off to an exciting start with a fast exchange that wobbled Shogun Rua first and then an overly eager Tyson Pedro second.
The rest of the round saw some more heavy exchanges with Pedro seeming to get the better of them. Pedro tagged Rua late in the first and landed a huge uppercut followed by a knee, the fight ended up on the ground with Rua finishing the round on top of Pedro.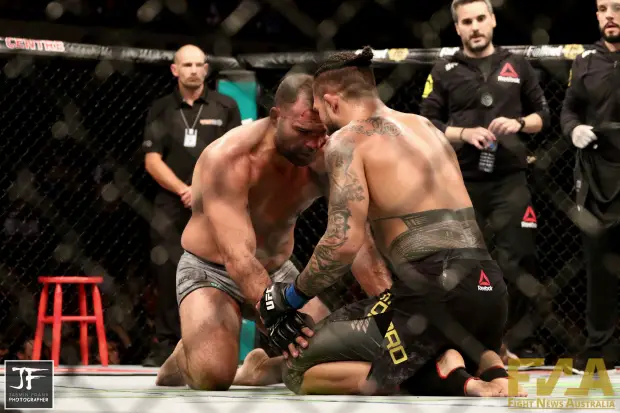 Again, the second round started off exciting with an early overhand right that stumbled Pedro. Rua goes in for the clinch and wrestled Pedro to the ground where the fight remained for the rest of the round. The third round was over quick with Pedro stumbling to the ground unable to support his weight due to a knee injury, Rua seeing his chance jumped on Pedro and was able to finish him with strikes.
Junior Dos Santos Def Tai Tuivasa via TKO (punches) in Round 2 – 2:30
Like Mark Hunt before him, Tai Tuivasa had the help of his people to make the walk to the octagon with a short indigenous performance proceeding his walkout song – What About Me by Moving Pictures.
Tuivasa came out aggressive against the Brazilian Junior Dos Santos, with an early leg kick and a rush forward. Tuivasa was throwing some seriously heavy hands and landing all throughout the first, moving and only eating a few shots himself. A huge low kick nearly sent Dos Santos to the canvas late in the first and left him visibly injured, but he as able to survive until the bell.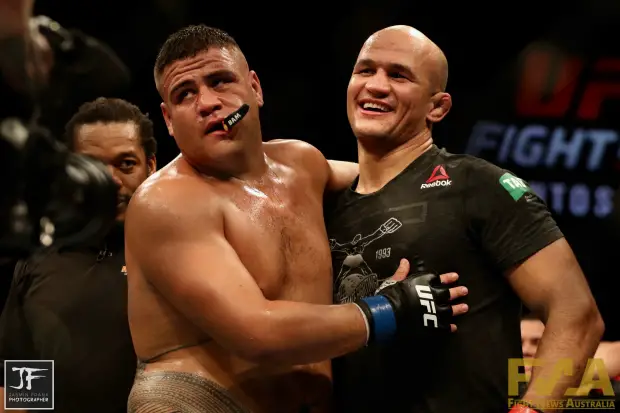 In the second round, Tuivasa came out aggressive again, keeping the pressure on and firing off with punches and kicks. Despite eating some heavy shots, Dos Santos managed to score a clean right hand on Tuivasa, a couple more after that dropped him to the canvas. Dos Santos jumped on top of Tuivasa and rained down shots until referee Herb Dean was forced to call it.
The Australians showed heart and improvements but ultimately for most on the card the experience of the competition proved too much. In the words of Tuivasa "I'll be back," and so will Australian MMA.
Kai Kara-France victorious in UFC debut : "I'm here to hopefully save the flyweight division"