You've probably heard about UFC. Perhaps you've even seen it on a television screen, but you don't really know what it's all about. Your friends are swapping stories about Conor and Khabib and talking excitedly about recent or upcoming events, but you're not part of the conversation. You're just sitting there, eyes glazed over, trying to work out how to change the subject.  
Fear not. Digest this essential guide to UFC, and you will quickly become part of the conversation and maybe even inform it.
The difference between UFC and MMA
UFC is an acronym for the 'Ultimate Fighting Championship,' and MMA stands for 'Mixed Martial Arts.' Think of it in terms of UFC as the 'competition/league' and MMA as the sport. UFC is to MMA what the Big Bash League is to Twenty20 cricket.
Specifically, the Ultimate Fighting Championship is an American mixed martial arts promotion company based in Las Vegas, Nevada. To date, they have staged more than 550 events worldwide.
The events
The UFC presents, promotes, and hosts several different types of events that can be simply grouped into one of either:
The numbered events, such as the recent UFC 259 where

Jan Blachowicz ended Kiwi Israel Adesanya's unbeaten run

, are mostly aired via pay-per-view. These are the top-tier and most popular events, including superstar fighters or title bouts. They are also the most lucrative events; or

The subsequent tier events, such as UFC on ESPN and UFC Fight Night on ESPN+, that almost always have good fighters on the cards, who use these events to get some public recognition; or

The Ultimate Fighter (TUF) series, which

according to ESPN, is set to return this month

, is the UFC's reality television show. It features many professional MMA fighters living together in Las Vegas, Nevada, following them as they train and compete against each other for a substantial contract with the UFC.
Each event features several bouts. Each bout is a fight between two different MMA fighters from the same weight class. Just like boxing, the bouts are divided into rounds and are supervised by a referee. The recent UFC Fight Night 186 featured five bouts on the main card and four bouts in the prelims.
The arena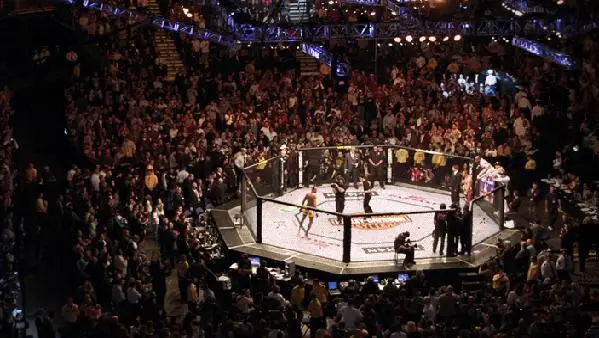 Since UFC 1 in 1993, each fight has taken place inside a 70m² octagonal cage – known as the Octagon – that measures approximately 9m across and 1.8m (the fence) high. Surrounding the enclosure are rows upon rows of screaming UFC fans.
The rules
UFC bouts follow the Unified Rules of Mixed Martial Arts. There are many rules, but the main ones for a beginner to understand are:
Length of each bout

– 3x five-minute rounds for a standard UFC bout and 5x five-minute rounds for a championship bout. Between rounds, each fighter gets a one-minute break.

Weight classes:

There are currently 12 weight classes in UFC, eight for men and four for women, and fighters are categorised by the weight class they fight in. The classes range from Women's Strawweight with a maximum weigh-in of 52 kilograms to Men's Heavyweight with a maximum weigh-in of 120 kilograms.

Winning a bout

– A fight is won either by knockout (KO), by technical knockout (TKO), by submission (where the opponent gives up), or by decision (of the three judges). Some bouts finish in mere seconds, as you can see from this video.

Fouls

– MMA fighters can use punches, kicks, elbows, knee strikes both above and below the belt (albeit with a few restrictions) to win a fight. In the Octagon, some of the things they cannot do are headbutting, eye-gouging, hair pulling, biting, spitting, striking the spine or the back of the head, striking the throat, grabbing the trachea, or attacking the groin.
Local fighters
UFC 260 takes place in Las Vegas, Nevada, on March 28, 2021. It features Stipe Miocic up against Francis Ngannou in the UFC heavyweight title main bout, and also features Australian Jamie Mullarkey and New Zealander Shane Young.
Mullarkey is on the main card and is priced by Betway Sports at 2.10 to win against Khama Worthy of the USA in the lightweight fight. Featherweight Young takes on Omar Morales in the early preliminary card.
Summary
Hopefully this quick guide to UFC has given you a bit more insight into this hugely popular sport. The next step: get yourself in front of the TV the next time there is a major event on and see if you can understand what is going on – you might just get hooked. You can find a full list of upcoming events here.
Jamie Mullarkey Promises Fireworks Against Khama Worthy At UFC 260