Ramesh Habib proved on Saturday night why he is considered one of the top junior welterweights in Australia with an impressive performance over two fights to secure the Warriors Way 22 4-man title and a $5000 winners cheque.
The road to the final was a tough one, with four of Victoria's best vying for the belt and the opportunity to propel themselves up the Australian rankings. The first semi-final bout of the night was between Albert Xavier and Quan Trinh, who having never faced one another before, opted for a cautious approach to the opening round. With each fighter coming into the bout with solid in-ring experience, both showed composure and patience knowing that they may need to fight twice in one night.
It was Xavier who started the stronger of the two, working over Trinh's legs and employing a solid defence, twice catching and dumping Trinh as he attacked in the first round. In what was a back and forth second round, both fighters began to pick up the pace with each letting their hands go and landing several punches in some tight exchanges. Towards the end of the round it was Trinh who began to find his distance and took the upper hand with some well-timed punch combinations.
Whilst a close bout between the two leading contenders it was Trinh who again pushed forward in the third round, working over the lead leg of Xavier with some devastating leg kicks as he moved forward. In the end, it was the higher work rate of Trinh that would allow him to pull away on the judge's scorecards and into the final, but not before Xavier had pushed him the full distance and took away any opportunity to enter the final un-damaged.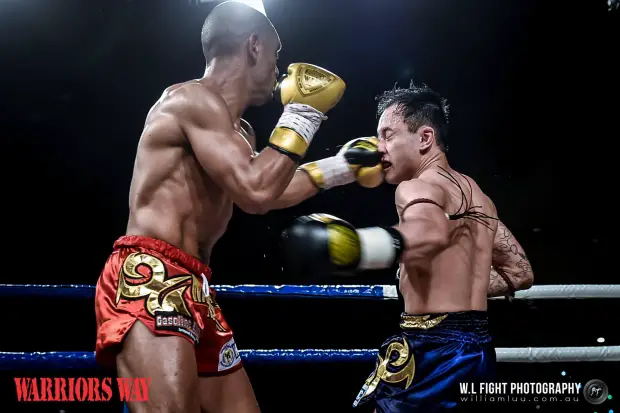 The second semi-final bout of the night offered a rematch between Indigo Boyd and Ramesh Habib who fought on the last Warriors Way 4-man eliminator, where Boyd pulled off an upset by opening up Habib with a well-timed spinning elbow, ending in a doctors stoppage. The potential rematch had been on the cards since the original April bout and Habib was determined to get his revenge as the two were drawn together.
It was all Habib from the outset, with the lanky fighter using his long legs to pepper Boyd with countless roundhouse and push kicks to keep him at distance. Knowing the key to victory for Boyd would be to get in close again and utilise his elbows, Habib was not going to allow him to get close enough to employ that strategy. A sneaky elbow from Habib late in the first round was enough to open Boyd up and paint a target for the following rounds.
The second round followed roughly the same pattern as the first with Boyd unable to bridge the gap as Habib continued to use his clear reach advantage and push ahead on the judge's scorecards. The third round showed just why Habib is currently positioned in the upper echelons in Australian muay thai, with some impressive combinations including a left roundhouse kick followed by a pinpoint accurate push kick in a matter of seconds. Despite a gutsy performance from Boyd who had been out of the ring since breaking his arm in the earlier fight with Habib, it was not enough to stop the momentum and Habib would go into the final via a unanimous points decision.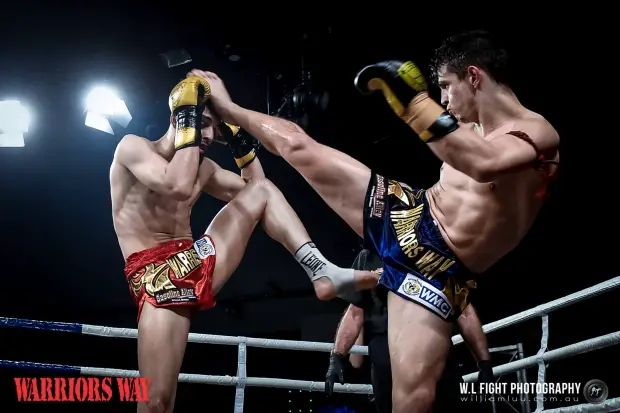 Going into the tournament as the underdog, it was up to Trinh to prove to his doubters that he had graduated to this level of competition and if his performance in the final is anything to go off, that transition is now complete. Habib, who entered the final largely unscathed, would look to employ a very similar strategy to his semi-final bout and put together a dominant first-round performance where he was able to keep Trinh at bay with some great ranged attacks.
Knowing he would need to push forward and let his hands go to try and swing the momentum in his favour, Trinh opened the second round with some solid punch combinations that began to turn the fight into a scrappy affair, a direction that would only work in his favour to stop Habib's dominance. Not to be thrown off his game, Habib answered back with some thunderous kicks that again would push the round in his favour.
The third and final round really nailed home the already clear advantage that Habib was showing, as he began to use his jab more often to keep Trinh from moving inside his range and letting go with his own combinations. Habib again employed some great ranged attacks, throwing a few step-up knees to put a halt to any comeback that Trinh had planned. It was a warriors attituted showed by Trinh who never took a backwards step right up until the final bell. With both fighters exhausted from the two fights in one night, Habib walked away with the unanimous points decision and the title around his waist.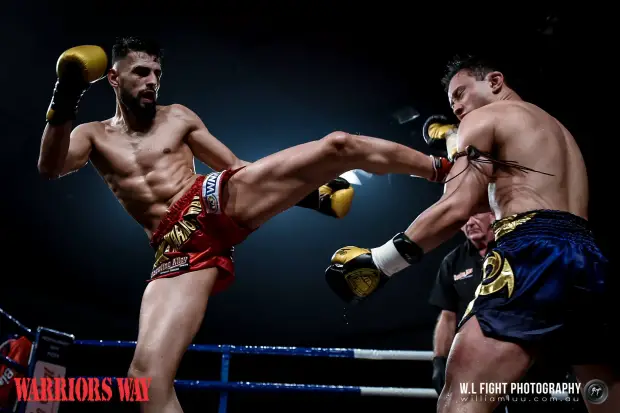 The night's main supporting bout saw the WMC (World Muaythai Council) Australian champion River Daz take on the incredibly tough up and comer Ben Cant from Western Australia. In what was perhaps one of Daz's toughest fights to date Cant showed up looking to upset the crowd favourite and travel back home with the win. Straight from the opening bell both fighters began with a frantic pace exchanging several leg kicks on each other that would be one of the main attacking options of the fight for both.
Cant's southpaw style seemed to inhibit Daz's strong use of footwork and angles as he struggled to attack in the same manner he is usually accustomed to. Coming into the bout with a reputation for punishing leg kicks, Cant was looking to slow Daz down and landed several kicks on the rear leg as the second round progressed. Not to be outdone, Daz fired back with his own leg kicks, loading up his rear roundhouse kick to attack the lead-leg and leave Cant with visible welts going into round three.
A slightly slower pace was on the cards from both fighters in rounds three and four as each continued to exchange leg kicks. Not until Daz began to use his sharp hands did the fight really start to take a turn towards the Melbourne fighter as he landed countless one-two combinations on Cant who was slowly starting to feel the power that Daz had at his disposal. Stunned several times, Daz finished the fourth round well in control.
Still attacking the legs, Cant was looking to put a halt to the forward movement of Daz but was unable to keep him out of his range as he once again ate several strong punches to the head. Built with what could only be described as a granite chin, Cant while seemingly rocked once or twice, still pushed Daz as the fight came to a close. In the end, it went to the judge's scorecards and Daz was able to secure the 24th win of his career, but not before it was earned in an absolute battle with his young Western Australian opponent.
Following the win, it was announced that Daz had signed an 8-fight contract with global promotion Glory Kickboxing and would be making his debut in the near future.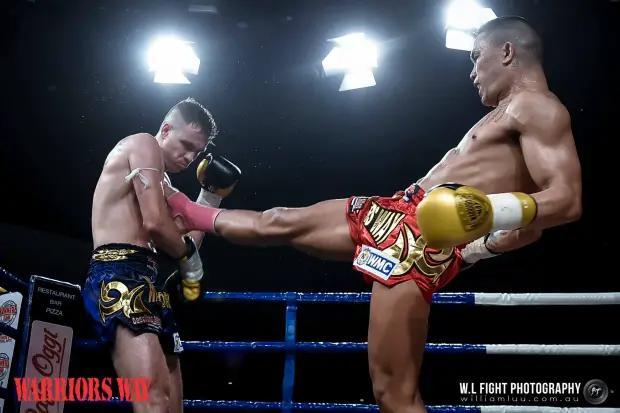 Fight fans were treated to an absolute war earlier on in the night when promising young fighters Jada Ketley and Tamika DeCesare showed skilled well beyond the years in a three round fight. Both fighters employed clean techniques with some strong kicks being exchanged from the opening bell. In a back and forth battle between the two, it was Ketley who walked away with the close points decision, outscoring DeCesare in the later rounds with some incredible output.
Earlier in the night Braden Tsam made an impressive professional debut, scoring what could be considered one of the stoppages of the year with an impressive head kick KO at the start of round three in his match-up with Cristian D'Alberto.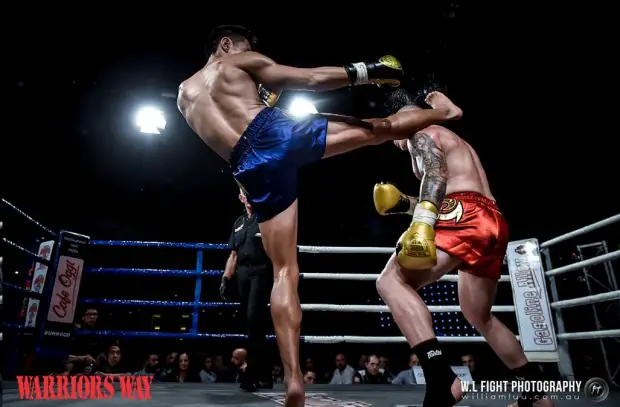 Results: 
Ramesh Habib def. Quan Trinh via Decision (Unanimous) (63.5kg Tournament Final)
River Daz def. Ben Cant via Decision (Unanimous)
Corey Barrett def. Nattakit Pakkawan via Knockout (Rd 4)
Jada Ketley def. Tamika DeCesare via Decision (Split)
Dean Vujic def. Ross Clark via Decision (Unanimous)
Mason Lawson def. Kyle Leung via Decision (Unanimous)
Jenny Ngo def. Talia Pranskunas via Decision (Unanimous)
Ramesh Habib def. Indigo Boyd via Decision (Unanimous) (63.5kg Tournament Semi-Final #2)
Quan Trinh def. Albert Xavier via Decision (Split) (63.5kg Tournament Semi-Final #1)
Iwan Jones def. Van Phan via Decision (Split)
Matthew Wilson def. Kore Ormsby via Decision (Unanimous)
Braden Tsam def. Cristian D'Alberto via Knockout (Rd 3)
Georgia Verry def. Diana Wong via Decision (Unanimous)