Trent Girdham may only be 19 years old but the Sydney local is as focused as they come.
After taking up boxing at the age of eight, Girdham progressed into kickboxing and took his first fight at just 15 years old. While most boys his age are preoccupied with the normal plight of teenage life, Girdham was finding his calling as a fighter.
Training out of Australian Top Team (ATT) in Western Sydney, "NIÑOLOCO" as he is known in mixed martial arts circles, considers himself extremely lucky to be hitting the mats with the best bantamweights in the country and it shows. Since making his amateur MMA debut in 2015, Girdham remains undefeated and has only gone to the judges scorecards once. It is a testament to his dedication, ability, and showmanship that he is now headlining a fight card and competing for Aftershock's bantamweight title later this month. His opponent, Kairin Moses, who is also undefeated, knocked out the last two guys who stood across the cage from him. Girdham however remains unconcerned about that fact knowing that he was the weapons in his arsenal, and the right people in his corner, to secure victory come September 17.
"I get hit a lot by guys who are hard hitters like Darwin and Suman. I think they are the hardest hitters in Australia. I know he's not as quick or as powerful as them and besides I'm not there to be hit. When he goes to hit me I simply won't be there and when he least expects it I'll catch him with something cool.
"It's going to be a fun fight either way. He's (Kairin) going to come out swinging, I'm gonna move around. Someone's getting knocked out,"Girdham told Fight News Australia.
While fighting is not a parents first choice for a career path, Girdham's have slowly gotten on board with his decision, ultimately supporting his commitment to pursue MMA at the highest level, full time.
"When I was 15 I quit my apprenticeship, I actually got myself fired. At the start my family didn't want me to do it (fighting) but they saw me start to win and I wasn't going out or doing anything stupid. I was focusing on one thing. They're very proud of me."
There's no question that Girdham is a top prospect in the bantamweight division. Watch the guy fight, hell, watch him spar and you can tell there is something special about this kid. His teammates will wholeheartedly agree too. Biased or not they are proud as punch and openly hype him as the next big thing – destined for the UFC.
Pressure for some is a burden but for Girdham it is just another tool for motivation.
"If you have pressure in your life it means that you're good enough, that people expect more. I need pressure to push myself and not be lazy. I'm lucky at ATT the boys push me to be better all the time. When I was at other gyms there was no one pushing me to fight. When I got to ATT I told the boys I wanted to be a fighter, I begged them. I took my first fight and I won and I've been at it ever since and they've been encouraging me the whole way."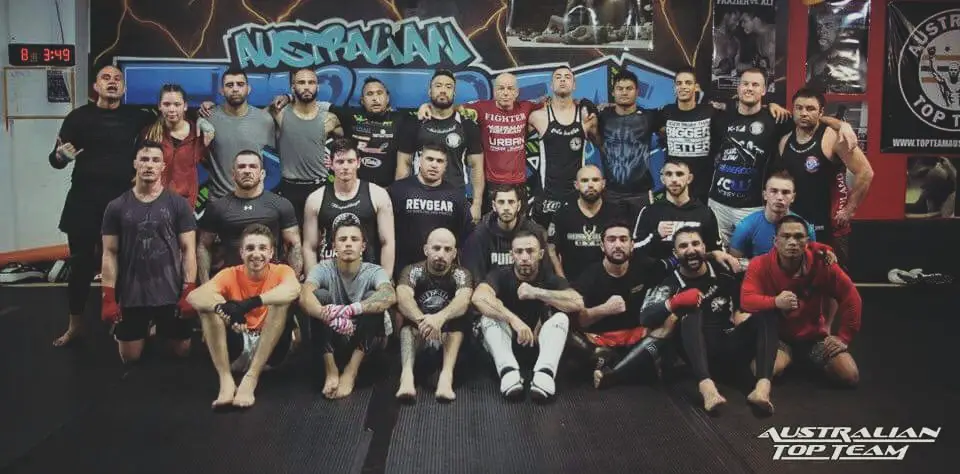 Girdham may not be looking past Moses just yet but there is certainly someone very familiar on the horizon that he is gunning for.
"I think he's fake," Gridham said of Julian "Julz The Jackal" Wallace.
"He doesn't know what he's doing. He went over to America… I heard he left three weeks early because he didn't want to train. He got knocked out by a young kid. I called him out a couple of times but he's blocked me on social media. He doesn't like anyone from our gym.
"I think I'd beat him so quick, in the first round. Anyone from our gym would beat him. We have the top five bantamweights at our gym for sure. Julz would just be a stepping stone for all of us."
While The Jackal has yet to take Girdham up on his offer, the young upstart had no qualms rubbing salt into the wound following Wallace's loss to now XFC bantamweight champion Gustavo Falciroli.
"Making a name for yourself, trash talking, whatever you want to call it, is just apart of the game,"Girdham said. It makes sense then that the fighter he would most like to emulate is as notorious as they come – Conor McGregor.
"I want to be like Conor McGregor. He's my biggest hero, he has been from the start. Everyone's like he's cocky and ignorant but he just likes to get into people's heads and so do I. I'm a still kid though so sometimes people probably get more offended by the things I say and do. They look at me and think they are going out power me, or out position me, but I've got news for them – I'm the next big thing."
Aftershock MMA takes place on 17 September live from YMCA Bowen Hills and is headlined by Girdham vs. Moses for the bantamweight title.