After years of traveling, training, and competing in various combative sports, across a multitude of regions throughout the globe, Australian MMA legend, George Sotiropoulos has finally returned home. Now, the next phase of his journey is to pass on the wealth of knowledge that he amassed along the way.
I arrive at Omega MMA in Collingwood, on a cool autumn afternoon. Midday class has commenced at this brand new school. I quietly observe the class from the sidelines, and while watching two students grappling on the mat, I can't help but wonder if they understand how truly lucky they are. Because as they grapple for position and sharpen their technique; there, kneeling right beside them, is the Australian UFC pioneer, George Sotiropoulos. George is generously offering his expert guidance, along with some enthusiastic encouragement to his seemingly inexperienced students. I walk closer to George he stands to greet me with a smile and a delicately soft handshake. George's demeanour is –like many warriors and martial artists- endearing, calm, and especially powerful.
Once the class had concluded, I sat down for an insightful interview with the man himself:
After a lifetime of training and competing in many combat sports at the very highest level, how is the body holding up these days?
Yeah good, I've taken some time off so my body has recovered really well.
No nagging injuries?
None now, many healed and don't concern me anymore.
I noticed that you had your knees and ankle's taped during a lot of your fights, how serious were some of the injuries that you carried into those bouts?
I wore compression sleeves that were used for gripping my opponent and for the protection of my knees and ankles.
When and how did your martial arts journey begin?
I saw a UFC event when I was like 19 years old, at a friends' house one night. He was like 'oh I got these tapes', VHS tapes, which wasn't that long ago (laughs).
I was always obsessed with martial arts, I was a big Bruce Lee fan, Van Damme, Rocky, anything to do with fighting I was obsessed with it. But then when I saw the UFC, my friend says to me; 'these guys in America, they're fighting in cages', and I'm like 'put it on, we've got to watch it'. And as soon as I saw it I was like wow, this is unbelievable. Straight away I thought I've got to do this.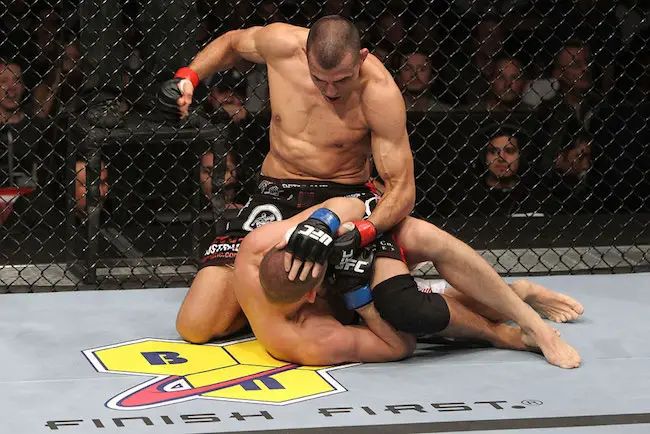 It took you about seven years to get your black belt, that's faster than the general standard, what to you attribute that to?
Hard work, obsessive training, competition, goals and drive.
How many jiu-jitsu instructors did you train under between white and black belt?
I trained with Machado affiliates here in Australia and made some trips to the Machado and other academies and schools in the USA.
At one stage in your career you were on an 8-match win streak, with 7 of those in the UFC against top class opponents. A 7-match win streak in the UFC is an astonishingly difficult feat to achieve. What do you think are the biggest contributing factors that lead to some of your subsequent losses?
My mindset changed which was the biggest factor.
You achieved quite a high level of formal education. Was it always your plan to make a career out of martial arts? Or did you fight as a passion project and ended up with a career as a bi product?
Both, I really wanted to make it my goal in life, so then one thing leads to another. I did so many events as an amateur, that it became my unpaid profession at the time.
I would take whatever job I could, but I wanted a career out of martial arts, and I just kept competing.
By the time I first started competing professionally, I was already a professional long before that, just because of the level I was at. I had amassed so many jiu-jitsu, wrestling, grappling, and amateur boxing competitions that by the time I fought in MMA, I was ready.
You won a state title in boxing, right?
Two times.
Over the years, you have trained with so many instructors, from so many styles. Who have been a few of the most influential coaches throughout your career, and why?
Definitely Ziggy Kelevitz. (Zsigmond Kelevitz is a freestyle wrestler who represented Australia in three Olympic games). He was someone I looked up for his skills and accomplishments and was a big part of my training. We went to many grappling competitions and spent significant amounts of time training together.
Did you find a massive difference in the culture on the mat, between Australia and America?
There's definitely more of a wrestling and grappling culture there, than what there is here.
Were they more aggressive when they trained?
No, I think aggression is part of human nature. But, perhaps they have more competitive practitioners.
https://www.instagram.com/p/Bg7vDQshvIF/?taken-by=georgesots
Eddie Bravo is a polarizing figure in the jiu-jitsu community. What made you train with him initially? And subsequently, what made you stay at 10th planet for such a long while?
The reason I decided to learn the rubber guard was seeing Shinya Aoki doing so well with it. It was a good tool to add to the arsenal because you can't always choose the position that you're in. It's an effective tool to have, should you end up on the bad end of a ground and pound situation.
Were you already a black belt, when you started training at 10th Planet?
Yes, I was a black belt and it helped with learning the rubber guard.
Was it hard, as a jiu-jitsu black belt, to learn a different style like the 10th planet system? Or did you just add it into your game nicely?
It took a mental discipline to implement because it would fail often. But I already had a good guard and escapes, which helped when it wouldn't work in training.
I feel like I have to ask you about Joe Rogan, because he's being such a popular figure these days, a lot of people are wondering how good he is at grappling. How much have you rolled with Joe?
I've rolled with Joe a couple of times.
If you rolled with him 10 times, how many times would you beat him? And what would happen?
(Laughs) I don't know, I never really went after Joe, we had friendly rolls, you know, like in Rocky, it was an exhibition match (Laughs).
I heard he's pretty strong though?
Oh Joe's a big gorilla.
You've faced a large array of MMA standouts, including: Ross Pearson, Joe Lauzon, Joe Stevenson, Rafael Dos Anjos and Shinya Aoki.
Who is a fighter that you never faced, that you were either scheduled to fight, or on a path to potentially match up with, that you would have loved to fight?
I was scheduled to fight (Takanori) Gomi, that fight never happened cause I broke my toe. Evan Dunham that was another one, I can't remember why we didn't fight, someone got injured.
Gomi would have been a good one.
That was in Japan too.
Who is a coach that you would have loved to train with, but never had the chance to?
Definitely Rickson, because he was the best of the Gracie family. But any of the Gracie's, they're all living legends, we wouldn't have this sport without them.
The Gracie's are giving jiu-jitsu it's direction, because I think the focus has changed. It was more fight oriented in the 90's and early 2000's. One would be more susceptible to strikes with many sportive techniques today.
The Gracie's are making a point with teaching self-defence and it helps the focus of jiu-jitsu. Many techniques like berimbolo or donkey guard, would not translate well to MMA.
https://www.instagram.com/p/BL3dTOQAtEj/?taken-by=georgesots
Out of the people that you've trained with, who is the:
 Best jiu-jitsu practitioner?
Jean Jacques Machado.
Best jiu-jitsu coach?
Jean Jacques Machado.
Best wrestler?
Ziggy Kelevitz. But I must mention two others; Eric Jetton, he wrestled for Wisconsin and was the 98' runner up in the NCAA. He was an amazing wrestler and jiu-jitsu black belt. And Kyle Bound, another D1 wrestler. Both amazing people.
Hardest hitter?
Matt Serra. It was right after season six (of The Ultimate Fighter) and the first time we sparred together.
I was being very respectful and he hit me so hard with this overhand right. I swear to god, I imagined GSP in that moment stumbling around the cage. I was so mad that he hit me that hard that I went after him.
It was a great sparring session. When he hit me, it sounded like something from Sesame Street, when one of the characters is struck in the head with two metal bin lids.
Strongest?
Hector Lombard.
Toughest mentally?
Enson Inoue.
Fittest?
Me.
Nicest?
Me (laughs).
Craziest?
(Laughs) Me.
Best MMA team?
I'd have to say American Top Team have a great fit out down there. They've got a complete program and coaches. But I'd have to say the same thing about American Kickboxing Academy, rich in talent and coaching, and great people.
A lot of the best teams in MMA have a combination of really high level coaching, and really high-level training partners. If you could only have one of those two contributing factors, which would you say is more important?
They're both important, because you learn a lot just from sparring; how to control and deal with different positions, because there are so many positions in fighting, it's just endless, there are positions within positions. But I do think that you have to connect with your coaching staff and your team, that's very important. You'll find sparring if you have to. I used to drive from Geelong to Oakleigh for sparring, from Geelong to Essendon, or Werribee or wherever, so you'll find sparring.
Contestants on The Ultimate Fighter come out with mixed opinions about their time in the house, but overall, was it a positive or negative experience for you?
It was positive; it's part of my career, part of my story. I thought it was awesome. There was a lot of complaining from the other guys.
The thing is, at that time in my life I was single, I was 29 when I went on the show. And this is all I did. I went to the USA with one bag, and had no commitments outside (laughs), no girlfriend, no relationships, just my family. I remember guys thinking about their girlfriends, their kids, or their family. I didn't have any of that.
When a couple of guys lost, they started missing their girlfriends or family, because in the absence of a goal, their mind wandered, which I can understand because I saw this again when I coached the show (Ultimate Fighter "The Smashes"). But I was so focused. I was already doing what I was on the show, before I even went on the show. I would get up, train, sleep, train, sleep, train, I was doing it in Japan the year before, I was doing it here (Australia) years before that. So for me it was like; oh you're going to drive us to training? You're going to go get my food? It was awesome, I was thinking, this is a piece of cake.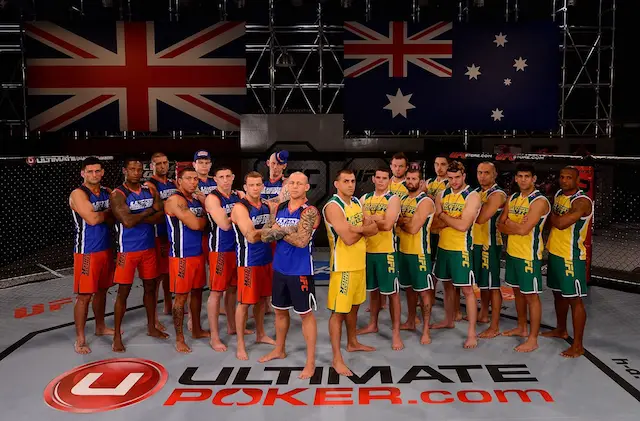 What have you been doing since you fought your last professional bout in August of 2014?
I took some time off. Transitioned from the U.S back to Australia and started Omega Jiu Jitsu MMA.
When did you decide that you wanted to coach?
I always knew I would, because it's part of what we do. I was teaching when I was a student, throughout the years of meeting other fighters, while training with other people. But I wanted my own my own academy.
Tell us about your school, when did you start the project, and what have you got planned?
Probably about a year ago. It took a while to find a building. Then get a permit. I made sure everything was done by the book. While that was happening I was renovating and painting, getting it ready. It's still a work in progress. I started running some trial classes in February. The full schedule commenced on April 7th.
What kind of classes will you offer?
Classes run from Monday through to Saturday, evening classes include striking, wrestling, and jiu-jitsu. The three phases of MMA. I've combined all the striking into one class, which combines boxing, kickboxing, and muay thai. The wrestling class is all about takedowns for MMA and grappling. And the jiu-jitsu class is all about ground phase. There are day classes on Tuesday, Thursday, and Saturday, but I'll add more of those as the school grows.
How many of the classes will you be personally taking?
I'm teaching all of them.
Do you need a basic level of fitness, or skill, to join your school?
No, right now there are a lot of beginners, so everybody's learning. But I'm introducing live drills to help teach people, they increase with improvement, as does fitness.
https://www.instagram.com/p/Be1UNZaBII1/?taken-by=georgesots
 You spoke earlier about modern jiu-jitsu becoming very sport focused, what kind of jiu-jitsu will you be teaching?
I really believe in the fundamentals, the jiu-jitsu that I do, that's basically carried me through my career. Fundamental escapes, passes, sweeps, and submissions.
MMA and competitive jiu-jitsu are both evolving so quickly these days, how do you keep up?
Train, watch fights, watch video's, practice techniques, study the game, you know, watch a lot of MMA footage, wrestling tournaments, watch what's going on presently with these grappling events going on around the world.
Are you a fan of submission only?
I'm a fan of all of it.
What are the most significant changes that you've noticed inside the cage in the last 5-10 years?
I think everybody is getting better. The standard of striking is improving with footwork and hands and feet for example. The takedowns and defence are better. Groundwork, guards and submissions are better than they ever were.
What are the most notable changes that you've noticed in the sport of MMA outside the cage in the last 5-10 years?
Definitely the growth of the sport, in the last ten years. The amount of schools has increased. The popularity has increased. There's been an explosion of MMA around the world, not just here in Melbourne. There are more events regionally and globally. More athletes. People love the sport. It's much more exciting than so many other sports. It's the complete package. There are no limits, so that's why it's more popular.
If you had your choice, would there be no wraps, no gloves? Or do you believe you need some sort of restrictions to make the sport safe?
I don't mind the wraps and the gloves, because they protect your hands, otherwise you would just have too many injuries.
But, the soccer kicks, the knees and stomps to the head, I think they're fine because it's part of the game, you should learn how to defend it. That's true martial arts, true MMA, true fighting.
Now, the eye pokes, the groin strikes, let's get rid of that; but even if that was permitted, I would still do it, because you'd have to defend it. As an aggressor, if you focused on groin attacks as a key to victory it would be a poor strategy, even if anything could be used, it would be a weak strategy, and a desperate measure.
These days, a lot of schools are teaching MMA from day one of training. Do you think there's merit to that? Or do you believe it's better to have a foundation in one skill-set, add the rest on, then mix it all in?
The subject matters are too broad to cover in one class. I believe training must be specialised and focused for real improvement otherwise you spread yourself thin.
While MMA is an offensively based sport, defending yourself on the street is about escaping and/or defending. What are the main differences in the way that you teach self-defence, compared to the way that you teach MMA for competition?
I'm teaching a complete system. Offence and defence. Your offense is only as good as your defence. But self-defence isn't about winning, it's about surviving.
Do you still train in the gi? How important is training in the gi?
Yes I do, but not consistently. I will be introducing the gi to the school. Some people don't like the gi because they don't like being grabbed. But some only want to train in a gi. I think you should do both, because with the gi you develop grips for passing, sweeping, submitting. Without the gi you develop great frames, clinches, over-hooks, and ties. So it's a different style. The gi, helps with your passing, so it makes your guard better, because it's so much harder to defend when someone is ripping your pants, and ripping past your guard. Both help, even Marcelo Garcia says you've got to train in the gi to develop the finer techniques, he's right. I think your game is going to be much sharper if you do both.
Do you find that the gi helps with your escapes? From side control, arm-bars, triangles?
Yes. There's more friction and it's much tighter in the gi. You have to really develop a solid game to escape. I remember the struggle when I was a white belt. I was man handled, with the gi, it was just so hard to get out of positions. I came to the quick conclusion that I should work on my defence. So I thought ok, I'm just going to stop people from passing my guard, and that's all I did for six months. I wasn't finishing anyone, but I developed a good guard. That was my focus, that's all I did, it was a great strategy, and then I was able to add sweeps, submissions and transitions.
What are the biggest differences in terms of defence, when it comes to striking in MMA, as opposed to straight kickboxing?
Well the first thing is, you've got those big gloves in kickboxing. So the coverage is a greater. There's less protection in the 4oz gloves, so you want to minimize the time that you're in front of your opponent. You obviously have to use your arms to blocks and defend and you have to use more footwork.
So we'll finish up with four hypothetical match ups. Who wins? And how?
Prime Bas Rutten vs. Prime Wanderlei Silva, PRIDE rules?
Oh damn, that's a tough one. Great question.  Wanderlei is one of the most aggressive fighters in MMA, he just wants to kill. And Bas was equally tough, but more strategic. I don't know. It's a hard one.
Royce Gracie vs. Kevin Randleman, but it's 1993, Randleman has no prior exposure to jiu-jitsu?
Definitely Royce Gracie, for sure, that's a no brainer.
Prime Junior Dos Santos vs. Prime Fedor Emelianenko?
I think Junior Dos Santos, yeah he's going to stay on the outside, he's going to box, he's going to move, he's not going to come back at Fedor like a lot of guys who stood in front of him.
This one's a street fight, on a grass tennis court. Shaquille O'Neal vs. Demetrious Johnson?
(Laughs) Oh, Demetrious Johnson for sure. He beats him on speed, for sure.
Horn vs Crawford & Whittaker vs Romero II Pay-Per-Views to go head-to-head on June 10