Editor's note: The views and opinions expressed below are those of the author and do not necessarily reflect the views of Fight News Australia, its affiliates and sponsors.
What is going to happen in the lightweight division?
With Khabib Nurmagomedov pulling out of his highly anticipated fight with Tony "El Cucuy" Ferguson due to weight cutting issues, the lightweight division has been thrown into a state of disarray.
"Conor's (McGregor) next. I hear he might be next" Ferguson told TMZ Sports after the event in Las Vegas had finished. However, it is difficult to see how McGregor will accept a fight with any lightweight unless they win an interim title first.
There now seems to be no obvious match-up for UFC president Dana White and co to make for the interim title. While Nurmagomedov-Ferguson may seem the obvious choice, a number of fighters, including former champion Eddie Alvarez and Michael Johnson have thrown their names into the hat since the interim title fight fell through. Also, there is always Nate Diaz, a natural lightweight who may see fit to try and get a third fight against McGregor.
In any case, the UFC has a lot of work to do to get the lightweight division in order again.
Rematches straight away aren't always the right choice
Hindsight is a wonderful thing but if Dana White had his time again he might have decided against an immediate rematch between welterweight champion Tyron Woodley and Stephen "Wonderboy" Thompson.
The most highly anticipated match of the night turned out to be a disappointment with both fighters showing each other an enormous amount of respect, so much so that after the first two rounds the fighters had landed a measly 27 strikes between them.
Perhaps the better choice of fights would have been Brazilian grappler Demian Maia who is deserving of a title shot due to his five fight win-streak.
MMA in Australia is in a good spot
Australia had three fighters on the UFC 209 card and despite it being a disappointing night for 42-year-old heavyweight Mark Hunt, who got knocked out at the hand of Dutch contender Alastair Overeem, the other two Aussies made even bigger steps to really put Australian UFC fighters on the map.
Western Sydney's Tyson Pedro continued his undefeated run in the UFC with an impressive win over Scotsman Paul Craig who was also undefeated before this fight. Pedro's left hand landed with ease before eventually knocking his opponent to the canvas and ending the fight via brutal elbows to Craig's head whilst in side mount.
Thirty-nine year-old, perennial underdog Daniel Kelly once again proved every pundit wrong and defeated UFC legend and former light heavyweight champion Rashad Evans, who in the past had been known as a knockout artist. Evans was beaten by Kelly on the feet, which makes Kelly's victory even more impressive considering he is primarily known for his ground game. The improvement in his striking suggest that Kelly has a long way to go in the sport.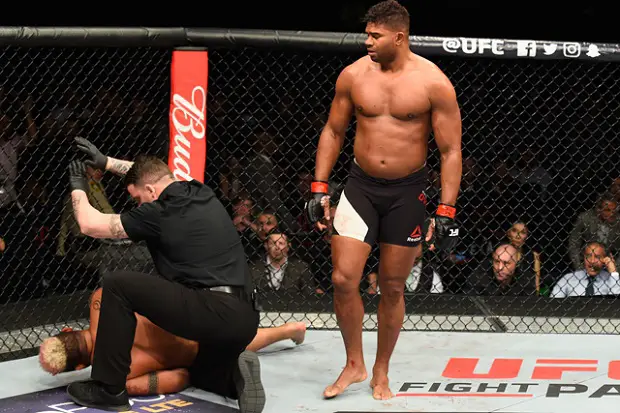 Overeem is still a contender
The first fight on the main card was essentially a fight to decide who out of Alistair Overeem and Mark Hunt would remain relevant in the heavyweight title picture. Unfortunately for down under fans, it was Overeem who viciously knocked out Hunt.
The one criticism of Overeem has always been his lack of ability to take a punch, with him being knocked out 10 times in his career already. However, Overeem more than answered those critics by taking some heavy shots from the notoriously big hitting Hunt and not seeming fazed at any stage.
The win was proven to be even more impressive after the press conferences where it was revealed by Dana White that Overeem had been in hospital for most of the previous day with severe food poisoning.
Did we just witness the greatest come from behind victory in a long time?
When the bell rang for the third round of the Mirsad Bektic vs Darren Elkins undercard fight, it seemed a foregone conclusion who was going to come out on top. Up to that stage in the fight Bektic had almost tripled Elkins' striking output, along with successfully taking him down and dominating him on the ground four times.
About a minute into the third round, the bloodied Elkins finally got into a position, controlling the back of Bektic and caught him with two quick punches, a kick to the face and within the space of 15 seconds the fight was over.
Thirty-two year-old Elkins now takes Bektic's spot of number 12 in the featherweight rankings and eyes a top 10 opponent in his next fight. It would be hard to deny him as four wins in a row in the UFC should warrant a shot at a top 10 opponent.
Dan Kelly & Tyson Pedro score big at UFC 209; Mark Hunt knocked-out