At UFC Fight Night 142 in Adelaide, undefeated heavyweight Tai Tuivasa (8-0) seeks to settle a score and blaze a trail in his headlining bout against former champ Junior Dos Santos (19-5).
In November 2017, Western Sydney born Tuivasa exploded onto the international fight scene by ending his UFC debut against Rashad Coulter with a combo that began with a crippling leg kick and ended with a flying knee.
A little over a year later, in Adelaide at UFC Fight Night 142, Tuivasa will square off against his second former UFC champ, Junior Dos Santos, in the main event, having already dispatched of Belarussian Andrei Arlovski in June.
At just 25 years of age, the former rugby playing larrikin of Samoan and Indigenous Australian descent says that sharing the octagon with the toughest competition available is exactly where he wants to be, because it is the only way for him to reach his goal.
"I fight to challenge myself, I fight to fight the guys with the big names. I'm not here to pick and choose who I fight or take the easiest fight."
I want to fight the baddest c#@ts on the planet and that's what I plan to do; hopefully one day I'll be the baddest dude on the planet.
While facing the hungry and accomplished Brazilian superstar, Dos Santos, might daunt some, several aspects of Tuivasa's upbringing have prepared him for this very moment.
Tuivasa spent his formative years with another Australian UFC pioneer.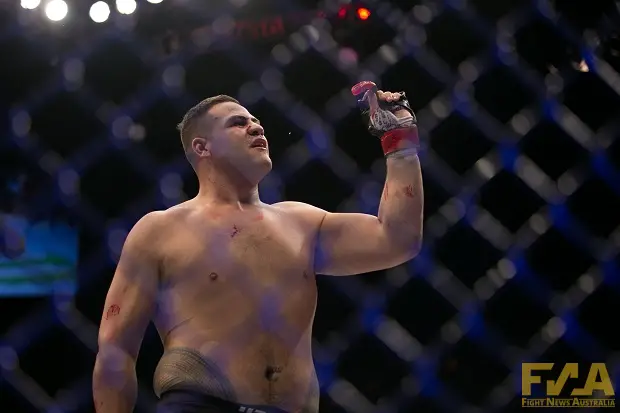 "I grew up with the Te Huna crew. James Te Huna, back then, there wasn't many of them or any of them at all, you know, and right now we're hot on the scene, us ANZACs or Australasia itself; there's plenty of talent out and there's only going to be more to come for sure."
As a proud Indigenous Australian, Tuivasa believes that his cultural heritage has given him the most important trait for a fighter.
"This sport is 85% mental."
"If anyone knows anything about Indigenous Australians, you know, one thing is a lot of us have the fight in us."
He hopes that while he is the first Indigenous Australian to compete, win and headline in the UFC, that he won't be the last.
"I think that once taught the skills, I think there could be many champions to come from this side of the world and being Indigenous, I think there should be a lot of champs that are Indigenous as well."
"There's challenges in life that are harder than fights, and that's why I think once they learn that, it's
such an easy sport to dominate."
For now, though, he is focused upon exacting revenge for his friend and training partner, Mark Hunt, who "Cigano" defeated back in 2013.
Yeah this fight I'm not coming to muck around, I'm looking to get it over with as quick as possible, you know. I want to get even, I want to get back some revenge from this bro.
"Mark's my brother, you know, so obviously anyone who beat him, I want to get one up on, that's for sure."
With Hunt, who was recently added to the Adelaide card, in Thailand, Tuivasa continues to work on his devastating strength, his swift and diverse range of strikes, while also developing his admitted weaknesses in jiu-jitsu and wrestling. He is also game planning another signature feature of his three-fight UFC career: his post bout celebration.
"I'm trying to get something new going, I just gotta do a few trial runs. I just got to get a few of the boys together and come up with something."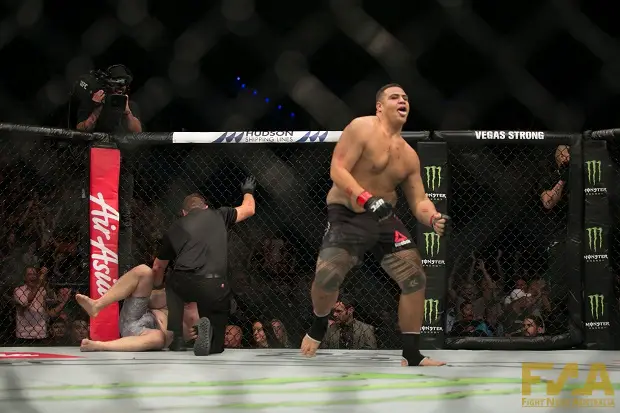 UFC Fight Night 142 takes place at the Adelaide Entertainment Centre on December 2nd
UFC Fight Night 142 Adelaide tickets to go on sale this week (Updated)