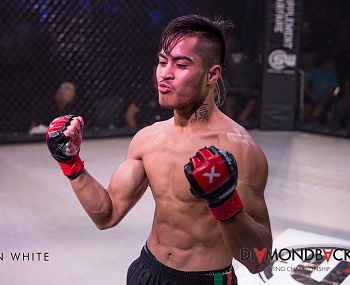 Sy Leafa
Age: 22
Place of Birth: Saleimoa, Samoa
Fighting out of: Melbourne
Gyms/Affiliations: Resilience Training Centre/ The Ring Gym
Weight Division: Featherweight
Pro MMA Record: 2-0
Other Combat Sports Records or Participated in: Kickboxing/Boxing
FNA: When and how were you first introduced to combat sports?
Initially, back when I was a teenager living in South Auckland, New Zealand I first got into street fights. I was about to have a street fight with 1 of the guys I had a beef with, and started looking for a gym to train at, while I was walking home from school I saw a new mma/kickboxing gym called Madmen Gym near my house that just started up, so I went there every Thursday because that's when I got paid. Did kickboxing for a few weeks then suddenly I fell in love with it. MMA training has since helped me stay out of trouble and has given me discipline.
FNA: Describe your martial arts background. If no prior background to MMA, what sports did you play?
I played rugby for 1 year then moved to rugby league and did that for 1 year as well.
FNA: Do you remember the first time you actually saw an MMA fight?
Can't remember, but I used to watch a lot of Kimbo Slice's fights on YouTube and always wanted to fight like him.
FNA: What would you say are your strongest attributes in MMA?
Probably my hands.
FNA: How would you describe your fighting style?
Boxing/Brawler.
FNA: Who do you like watching fight, locally and internationally?
Love watching Ben Sosoli fight and internationally Lomachenko for boxing but for mma it would be Tai Tuivasa.
FNA: Of all your fights to date, which one is the most memorable and why?
Probably my first mma fight against Goran (Olujic), took the fight on 2 weeks notice, had 4 amateur boxing fights before that with no mma training at all and stopped him in the 3rd round.
FNA: What are your short and long-term goals in MMA?
Short-term is to win all my fights. Long-term try and make it to the ufc but just enjoying the journey atm.
FNA: What are you expecting from your next bout against Mohammad Alavi at Hex Fight Series 14?
Expecting an all out war and hopefully a knockout in the first.
FNA: In finishing, are there any supporters or sponsors you would like to thank?
Just Resilience Training Centre and coach Dan Kelly & Ben Sosoli for pushing me to train every day. I wouldn't be as fit as I am now if it wasn't for them.
* Follow Simon Leafa on Facebook.