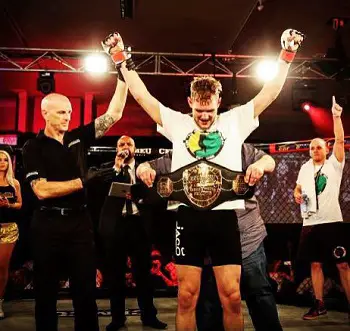 Age: 25
Place of Birth: Ballarat, Vic
Fighting out of: Ballarat, Vic
Gyms/Affiliations: Infinite MMA
Nickname: The Sharpshooter
Pro MMA Record: 6-1
Amateur MMA Record: 4-0-1
Other Combat Sports Records:
Multiple state and Australian BJJ titles, VABL amateur boxing state title, Victorian San Shou kickboxing title
FNA: When and how were you first introduced to martial arts?
Sam: Growing up I had 3 older brothers, so we felt like we had a bond with the Teenage Mutant Ninja Turtles from the get-go, mucking around copying their moves, competing and wrestling together was a daily routine. From there I started watching Bruce Lee movies and started training in Kung Fu at about 11 years old.
FNA: Describe your martial arts background?
Sam: Started traditional martial arts at 11, progressed through the ranks and trialled multiple disciplines. I was into UFC and Pride FC from a young age but at the time the only way I could watch them was to order VHS copies from a comic shop in Melbourne and they were crazy expensive for a 14 year old so once every few months I would order one. I spent the next few years training sporadically in kickboxing, boxing, judo, bjj and Muay Thai gyms until I met John Campbell when I was 20 and that is when I truly started training as a contemporary martial artist, ever since then I have trained solely under his guidance.
FNA: Do you hold any martial arts titles/awards?
Sam: State San Shou kickboxing title, various State/Australian Brazilian Jiu Jitsu titles, VABL State amateur boxing title, Gold Rush Welterweight MMA Title, the coveted best looking Australian MMA fighter (according to my gf).
FNA: What would you say are your strongest attributes in MMA?
Sam: I feel my ability to finish a fight in any range is my strongest attribute however the trend so far in my fights has been my submission skills. I have a very strong and long-lasting squeeze so anytime my opponents neck is unprotected I'm going to latch on and squeeze.
FNA: How would you describe your fighting style?
Sam: Technical finisher!
FNA: How did you get your nickname?
Sam: The Sharpshooter arose after my first pro MMA fight, I ended up catching my opponent in a calf slicer that we call the Sharpshooter at Infinite, because it looks very similar to Brett "The Hitman" Harts WWF finishing move the sharpshooter. I think the best nicknames have to be given by your coaches or team mates and mine fitted perfectly.
FNA: Who do you like watching fight, locally and internationally?
Sam: In MMA I love watching Fedor, Rickson, Anderson Silva, Bas Rutten, Shinya Aoki, Anthony Pettis, Jon Jones, Dominic Cruz, this list could go on… In Boxing I spend most of my time watching Tommy Hearns, Aaron Pryor, Roy Jones Jr, Mike Tyson, Bernard Hopkins, Willie Pep and Floyd Mayweather. In kickboxing and muay thai I like watching Ramon Dekkers, Saenchai and Buakaw. In BJJ it has to be Marcelo Garcia and Kron. At my heart I am a student of martial arts so my time away from the gym usually consists of me watching fights, training footage or fight documentaries.
Locally I like watching good evenly matched fights no one in particular but I make an effort to watch as many events as possible, I think Israel Adesanya and Alex Volkanovski are two guys who always excite the crowd and surely can't be far off the biggest promotions.
FNA: Of all your fights to date, which one is the most memorable and why?
Sam: Winning the Gold Rush Welterweight title in my hometown of Ballarat in front of a packed crowd was unreal, pretty much all my family and friends were there and winning in the first round was one of those moments that I will never forget.
FNA: Do you have any short or long-term goals in MMA?
Sam: Short term goal is always to win my next fight! Apart from that I think my future holds big things, I would presume most MMA fighters start with the ultimate goal being the UFC and I'm no different. I don't really have a plan or a strategy I'm following to get there apart from trying to fight the best competition available/that the promoter offers me and winning, no one can say no to a winner. Instead of focusing on the destination I put 100% of my effort into the journey knowing that if I keep doing the right things the end goal will be achieved.
FNA: Sponsors/supporter shootouts?
Sam: My main sponsors are Carworks Ballarat, Ric and the boys always help me out as well as Ivan from Chatham Homes and a bunch of local businesses in Ballarat. Apart from that I'm in the process of looking for more long-term sponsors at the moment as I have recently quit work, Teaching PE at a local high school, to commit 100% to MMA.