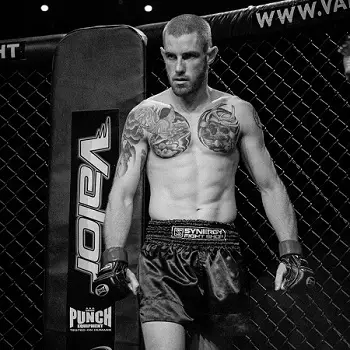 Age: 28
Place of birth: Adelaide, SA
Fighting out of: McLaren Vale, SA
Gym: Ringworks MMA
Nickname: M16
Pro record MMA: 6-1
Pro record Muay Thai: 19-7-1
FNA: When and how were you first introduced to martial arts?
Myles: I first watched UFC in my early teens through a friend who had VHS tapes. But my first training experience started when I was 18 at Zen Do Kai after going along with some friends to try it out.
FNA: Describe your martial arts background?
Myles: My background started in  Zen Do Kai for about 6 months before moving on to a kickboxing club. After going to Thailand I started fighting Muay Thai in 2006, and finally moving onto MMA in 2013.
Do you hold any martial arts titles/awards?
Myles: I currently hold the MMADU lightweight MMA title. I have also won the WMC South Australian Lightweight title and novice BJJ South Australian title.
FNA: What would you say are your strongest attributes in MMA?
Myles: My strongest attributes in MMA are my team and training partners, they definitely give me my confidence to win. Inside the cage I think my Muay Thai is my strong point but also my scrambles and scrappiness on the ground help me to win fights no matter where they go.
FNA: How would you describe your fighting style?
Myles: I'd like to think I have pretty clean and technical style on the feet, and a good control game on the ground. I like to keep a high work rate and try break my opponents down round by round.
FNA: How did you get your nickname?
Myles: Nickname came from guys I used to work with, started calling me machine gun because when they watched me fight in the early days I used to just flurry with my strikes. Punches in bunches. And M16 just grew from that.
FNA: Who do you like watching fight, locally and internationally?
Myles: My favourite MMA fighters locally for MMA are Jake Matthews and Robert Whittaker, and internationally I like Jose Aldo, Eduardo Dantas and Nick Diaz. In stand up I like Israel Adesanya, Sittichai Sitsongpeenong, Tyrone Spong and Toby Smith.
FNA: Of all your fights to date, which one is most memorable and why?
Myles: My most memorable fight would probably be winning the MMADU lightweight title as it was the first MMA title ever offered in a cage in South Australia, so that will be always be a small piece of history. But my most memorable win so far would be beating Jai Bradney in his backyard by RNC in the first round. A lot of people didn't give me a chance in that fight, and I was a big fan of Jai's but I believed in myself and got the job done!
FNA: Do you have any short or long-term goals in MMA?
Myles: I would really like to get a shot in ONE Championship long-term, but in the meantime I'm happy to just keep beating whoever is in front of me. My next fight is a number 1 contender fight for the Eternal featherweight title, so Id like to capture that. Also I'm still around the top contenders in Valor MMA show as well. So plenty to keep me active and busy and motivation is high right now!
FNA: Do you have any fights lined up at the moment?
Myles: Next fight is November 20 on Eternal MMA in Perth (vs Ryan Gray).
FNA: Sponsors/supporter shootouts?
Myles: I always like to thank anyone who supports me from friends, family, sponsors, training partners, fans of the sport. I appreciate it all and never take it for granted. Shout out to my sponsors, Inkaholics Tattoo Studio, MV2, SUB Apparel, Synergy Fight Shop, The Coconut Kitchen.