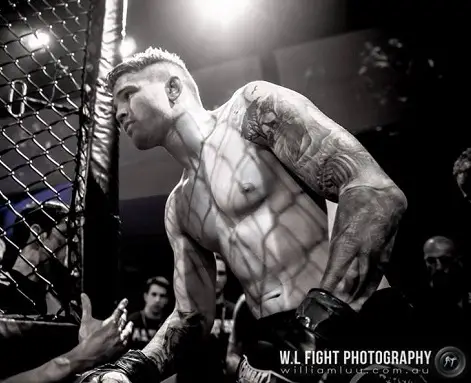 Age: 25
Place of birth: Canberra, ACT
Fighting out of: Cheltenham (VIC)
Weight Division: Featherweight
Gym: Adrenaline MMA & Fitness
Nickname: NA
Occupation: Athlete/Coach
Pro record: 6-0-1 (Nov. 2015)
Amateur record: 2-0-0
FNA: When and how were you first introduced to martial arts?
Jordan: My Dad has a black belt in Taekwando, and he used to take my sister and I through some basic stuff in the living room when I was about 9 years old. I joined a local Taekwondo club and had fun competing in that sport but wanted something a bit more realistic with more contact and sparring. I met my team mate Aidan Aguilera through the same Taekwondo club. He told me to come and check out the MMA gym that he was also training at and from there I was hooked.
FNA: Describe your martial arts background?
Jordan: My coaches Cris Brown and Travers Grubb are extremely talented and experienced grapplers, Cris being a 5 time Olympic Freestyle Wrestler. They have both trained me up with a strong base in Wrestling that is more specific to MMA rather than pure Freestyle. And of course we cross train with as many different types of martial arts as we can, but I always try to relate it and adapt it to my strong background of Cris and Travers' style of wrestling and grappling.
Do you hold any martial arts titles/awards?
Jordan:
2004 Junior Black Belt in Taekwando
2010 BJJ Pan Pacific Championships – Blue Belt, 1st place
2010 Fight of the night winner on Robbie Knight's MMA show, Tribal Punishment
2011 Received honorary Blue Belt in Kyokushin Karate under Shihan Judd Reid
2013 Received Purple Belt in BJJ under Cris Brown
2014 Australian KO of the year
FNA: What would you say are your strongest attributes in MMA?
Jordan: My will to overcome the obstacles that my opponents throw at me with bad intentions. My will to keep on going when I'm exhausted or bleeding, and my will to enforce my fight, not my opponents fight…so basically my will haha.
FNA: How would you describe your fighting style?
Jordan: Relentless.
FNA: Who do you like watching fight, locally and internationally?
Jordan: Locally I support and watch the guys that are doing good things for the sport. My team mates are a given Sam Hibberd, Aidan Aguilera, Hayden Wright, Anthony Barbuto, Gustavo Falciroli, Rodolfo Marques and the list goes on. On the international stage, I always watch the Featherweights which is my weight division to inspire myself and to try and pick up something new. And how could you not want to watch the big heavy hitters like Mark Hunt coming up soon…those guys are exciting!!
FNA: Of all your fights to date, which one is most memorable and why?
Jordan: Each fight has its own story, but I can't go past the Spinning Elbow knockout in July 2014 on Hex 1. We had been working on that spin a lot during that camp and I remember practicing it a few times in the warm up. It was an indescribable feeling to land that shot just the way we practiced it.
FNA: Do you have any short or long-term goals in MMA?
Jordan: The long term goal is obviously every fighters goal which is to make it to the UFC. Until then my short term goals are just to focus on each individual fight as they occur, as there is so much that goes in to these fights that it is hard to look past them, and looking past a fight is not something I want to do.
FNA: Do you have any fights lined up at the moment?
Jordan: Nothing lined up at the moment, but we will see what the new year brings.
FNA: Sponsors/supporter shootouts?
Jordan: A huge thanks to my sponsors for making life a lot easier during camps; MSL Constructions, Della Rosa Fresh Foods and Grappleseeds. And of course a shoutout to my family, friends, training partners and the crew down at Adrenaline MMA and Fitness.