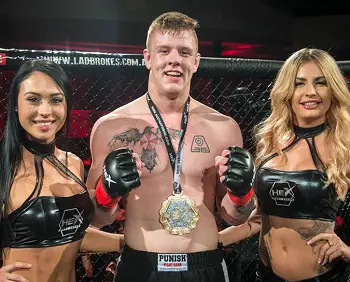 Jimmy Crute
Age: 20
Place of Birth: Singleton, NSW
Fighting out of: Melbourne/Bendigo
Gyms/Affiliations: Stewies house/Team Greco
Weight Division: Light Heavyweight
Pro MMA Record: 3-0
Amateur MMA Record: 1-0
Other Combat Sports Records or Participated in: Jiu Jitsu, Kudo (5-0)
FNA: When and how were you first introduced to martial arts?
Jimmy: I started Zendokai Karate when I was about 4 years old, and obviously I was too young to remember the majority of my training but I have vivid memories of getting really upset because they wouldn't let me spar with the older kids, even from a young age I loved play fighting with my older brothers.
FNA: Describe your martial arts background. If no prior background to MMA, what sports did you play?
Jimmy: I always say that even though I've done martial arts for most of my life that the journey didn't start until I started Jiu Jitsu.
FNA: Do you remember the first time you actually saw an MMA fight?
Jimmy: The first MMA highlight I remember was Gabriel Gonzaga's head kick win over Mirko Cro Cop. As soon as I saw that I knew MMA was now my favorite sport and I wanted to do it.
FNA: What would you say are your strongest attributes in MMA?
Jimmy: Definitely my grappling, I know I can hang with anyone in that world, but I'm getting more comfortable on every aspect of MMA every day. Also I think my work ethic and dedication is a big attribute.
FNA: How would you describe your fighting style?
Jimmy: Unpleasant haha.
FNA: Who do you like watching fight, locally and internationally?
Jimmy: The guys I train with above all else but I won't name them all because I know I'll miss someone! I love watching the guys that win, lose or draw; they come to punch on no matter what- Donald Cerrone, Robbie Lawler, Robert Whittaker, Frankie Edgar and so many more I could go on and on.
FNA: Of all your fights to date, which one is the most memorable and why?
Jimmy: My pro debut for many reasons, fighting a monster like Ben Kelleher with 18 pro MMA fights plus more pro kickboxing bouts and winning on your debut is something pretty cool (video below). Not only that but for the whole year I had been turned down by so many promoters, I seriously thought I would never even get a chance to fight, I knew all I needed was a chance to show people what I knew I could do.
FNA: What are your short and long-term goals in MMA?
Jimmy: Short term – beat everyone is Australia. Long term – beat everyone in the world.
FNA: What are you expecting from your next bout against Nathan Reddy at Hex Fight Series 8?
Jimmy: I am expecting a dangerous fighter with a lot of confidence. But I am also expecting to put a halt to the Nathan Reddy hype train in a brutal fashion.
FNA: Sponsors/supporter shootouts?
Jimmy: Mass Nutrition, Punish Fight Gear and everyone that supports me from sending me a Facebook message, coming out to the shows to help me train, I appreciate every bit of support I receive and I am very lucky to have the supporters that I do.