Australia's Martin Nguyen retained his featherweight title in spectacular fashion over Mongolian vet and former One featherweight champion Narantungalag Jadambaa at One: Roots of Honor on Friday night. The event took place at the Mall of Asia Arena in Manila, Philippines.
Nguyen's previous fight was at bantamweight and for this match up he moved back up to his natural fighting weight and it evidently showed in his performance. Although Jadambaa looked to be the bigger competitor in the cage, Nguyen's lightning speed advantage was put on show from the get go as he attacked with a variety of kicks and perfectly timed hooks, whilst also using his jab to measure distance.
Early on in round two, Nguyen stunned Jadambaa with multiple consecutive calf kicks, and then followed through with a flying knee, knocking out his opponent in a highlight reel finish.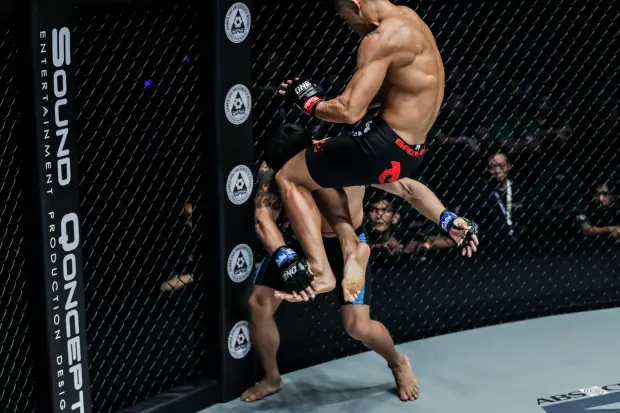 With the win, former two division champion Nguyen retains the One featherweight championship and moves to a 12-3-0 professional record. Following the loss, Jadambaa drops to 14-6-0.
In the co main event of the night, Filipino Joshua "The Passion" Pacio reclaimed the strawweight strap against Japan's Yosuke Saruta in a rematch between two foes. In their last outing Pacio dropped a close decision to the Japanese veteran. On this occasion after a close back and forth battle Pacio was able to connect with a thunderous headkick on Suruta which knocked his opponent out cold and put a halt to the match midway through the fourth round.
Earlier on the card, Australia's Andre Meunier was outgunned early in a heavyweight kickboxing match up against Brazilian K1 specialist Anderson Silva. Recently coming off a stint on the latest season of the Ultimate fighter, Silva was initially pushed back by a blitzing barrage of strikes by the Aussie, but the Brazilian remained composed and unfazed. Meunier attacked with a wild looping hook, Silva then countered with a clean overhand right on the temple which left Meunier unconscious on impact.
Full Results:
Martin Nguyen def. Narantungalag Jadambaa via KO (Knee) Rd 2, 1;07
Joshua Pacio def. Yosuke Saruta via KO (Kick), Rd 4, 2:43
Tatsumitsu Wada def. Gustavo Balart via Decision (Unanimous)
Leandro Issa def. Fu Chang Xin via Submission (Armbar), Rd 1, 3:03
Kickboxing: Andrei Stoica def. Ibrahim El Bouni via Decision (Unanimous)
James Nakashima def. Luis Santos via TKO (Verbal Submission), Rd 2, 0:56
Edward Kelly def. Sung Jong Lee via TKO (Punches), Rd 2, 2:51
Kickboxing: Anderson Silva def. Andre Meunier by KO (Punch) at 1:14 of Round 1
Kwon Won Il def. Eric Kelly via TKO (Punches), Rd 1, 0:19
Muay Thai: Saemapetch Fairtex def. Ognjen Topic via Decision (Majority)
Xie Bin def. Ahmad Qais Jasoor via Submission (D'Arce Choke), Rd 2, 2:27
Niko Soe def. Eko Roni Saputra via TKO (Doctor's Stoppage), Rd 1, 3:03
Lerdila Champairtour def. Momotaro via Decision (Unanimous)
Bi Nguyen def. Dwi Ani Reno Wulan by TKO (Punches), Rd 1,3:55
Ramon Gonzales def. Akihiro Fujisawa via Submission (Guillotine), Rd 1, 1:19
Kevin Belingon defeats Martin Nguyen to claim One Championship interim bantamweight title