UFC 209 is one of this year's most highly anticipated fight cards. The fight card offers a plethora of opposing techniques and strategies for fight fans to look out for. In the main event Tyrone Woodley looks to blast the karate styles of Stephen Thompson into oblivion. While in the co-main event Khabib Nurmagomedov will be relentlessly trying to throw a wickedly unorthodox and violent Tony Ferguson around the octagon.
Quietly nested beneath these two fights on the main card sits Australian Daniel Kelly, whose consistent performances have given him an opportunity to work his craft on the main card of one of the biggest UFC events of the year. The four time Olympian will be looking to improve his record to 7-1 in the UFC as he faces former light heavyweight champion, and UFC legend, Rashad Evans.
Evans debuted in the UFC in 2005 and went 12-1-1 in his first 14 fights. Throughout this period Evans was a mixture of blitzing strikes, explosive takedowns, and overwhelming ground striking. Indeed in 2012 Evans had moments of success against Jon Jones, and while he convincingly lost the fight, he at times offered problems to which Jones had to scurry for answers. Yet from the Jones loss onwards, Evans has lost four fights and won only two. Throughout this time he was plagued by injury, yet in his fights he has only found moments of the prowess that propelled him to the top of the sport.
When Evans is good, he is very good. His aptitude for MMA comes through his ability to mix the different elements of the sport together. Evan's foundation upon which this is placed is his jab. Evans will constantly move, throwing slight feints and dips until he whips out his jab and snaps it back to his chin instantaneously. From here Evans will push his opponent backwards until he is near the fence, once there he will blitz forward with a combination of straights, hooks, and uppercuts looking to overwhelm his opponents and force them to think about the incoming strikes. From here Evans will change tactics and drop down for a takedown against the fence.
Over his last five fights completing this takedown has proved crucial. In his fight with Chael Sonnen in 2013 Evans was able to secure the takedown and batter him out with ease. His confidence seemed to grow and grow the moment after he secured the takedown. Alternatively, in his bought with Ryan Bader in 2015 Evans was unable to take his opponent down, and increasingly failed to strike effectively into the clinch throughout the bought.
Evans seems to be a fighter for who confidence is established early. If he can land some substantial strikes or takedowns against his opponents early in the fight you see a confident swagger come across him. However if he cannot an apparent timidity infiltrates his game, and he rarely pulls the trigger on his strikes. If Evans can flow between his techniques and implement his beautiful MMA strategy he will be a hard opponent to beat, yet if he is shaken early his effectiveness can be greatly diminished.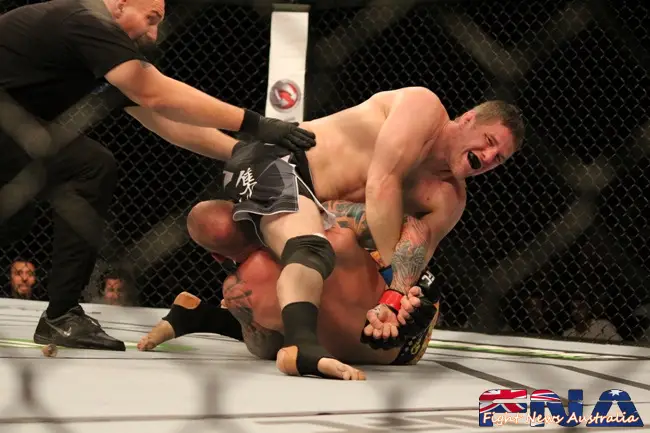 Dan Kelly's MMA style has a few similarities to Evan's, however as far as style points go, he might lose out a little bit. Throughout his UFC career Kelly has continuously been the betting underdog, largely as a result of his plodding, blue collar, #DADSBOD style. Yet Kelly has consistently sent these doubters packing, and proven again and again how dangerous and effective he can be.
The foundation upon which Kelly's MMA game sits seems to be relentless tenacity. Kelly simply finds a way to win, he is doggedness personified. Throughout most of his bouts in the UFC this is highlighted in his constant forward pressure. This shouldn't be confused with just plowing forward with no regard for safety aggression. Instead forward pressure involves maintaining a suitable distance, cutting off your opponents escape routes and increasingly making them feel like they have no room to breath.
Kelly's ability to pressure forwards rests on his jab. As a southpaw Kelly will keep his left hand locked to his jaw and paw out with his right hand, gauging the distance while also creating a barrier between his opponent's strikes and his face. From here Kelly will step forward with a jab, that seems to flick out against his opponents as opposed to slamming into them. Once he has his opponent backing up Kelly will go to his bread and butter on the feet, the 1-2. While the 1-2 is a pretty basic boxing combination Kelly has a lot of success with it. In part this can be contributed to the way he throws it. Perhaps a little similar to Nate Diaz, Kelly won't wait for his right jab to return back to its starting position before he throws his left straight. Instead Kelly's left straight is slightly anticipated, and will leave its starting position before his jab has fully retracted.
Once Kelly has pushed his opponent back to the cage he turns to his judo. Kelly relies on a variety of trips, primarily outside trips to the left leg. The Aussie seems to get them from anywhere, from the unconventional overhook Harai-Goshi to dirty boxing flowing into Tai-Otoshi the Judoka does it all. Once the fight has hit the mat Kelly implements his heavy top game. Kelly will look to stand to pass to side control or half-guard and from there batter his opponents until he gets to the full mount.
While Kelly poses a lot of dangers to his opponents his style also comes with a lot of risks. Kelly's forward pressure proved fatal against Sam Alvey as the heavy handed American was able to counter strike while moving backwards and put the Australian out. Furthermore if Kelly cannot implement his judo and ground game his striking game quickly becomes a lot more limited.
Will Dan Kelly again defy expectations and secure his most high profile win to date? Or will Rashad Evans return to his championship ways and put on a dominant performance?