This weekend Dylan Andrews heads to Stockholm, Sweden to compete for the Superior Challenge Middleweight Title. Standing in the way of Andrews' quest for gold will be Swedish powerhouse Papy Abedi, who will be looking to capture the championship on home soil.
However this isn't the first time the two fighters have traded leather in the cage. They first fought in the UFC back in 2013, where Andrews was able to claim a vicious KO after a string of unanswered punches. Indeed for Abedi, who was let go by the UFC after the loss, this fight gives him a chance at redemption. This will also be Andrews' first fight since he was let go by the UFC in 2015 after three consecutive losses.
Abedi brings a range of difficult problems that Andrews will be looking to solve throughout the bout. Andrews may have knocked Abedi out in their first fight, however before this point Abedi was more than competitive and on many scorecards was winning the fight.
Abedi's success in the first fight was largely due to his ability to repeatedly take the fight to the ground. Abedi has a judo base, and does a lot of his takedown work against the cage. He will look to clinch his opponent, push them to the cage and then secure an underhook on at least one side. From here Abedi will most often attempt to secure an inside trip, a takedown which he completes at least once in most of his fights. Abedi also has success with a single leg that he will chain into a high crotch single, a takedown that saw Andrews somersault through the air before he was slammed onto the mat.
Abedi isn't a prolific guard passer or a vicious ground and pounder, however he does just enough of both to keep his opponents occupied most of the time. Abedi will look to posture up from closed guard, strike, and then pass to side control. From here it is almost as if he is waiting for his opponent to scramble back to their feet so he can attempt to gain front headlock control. From front headlock control there are several submissions available, however Abedi most often looks to transition to the guillotine choke.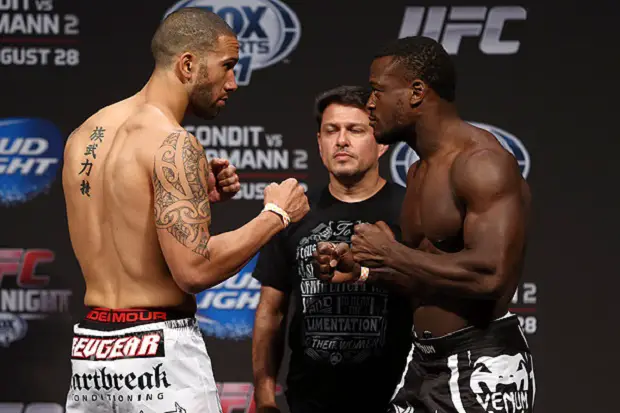 Abedi may have been able to take Andrews down multiple times throughout their first fight. However his defense on the feet was at times lacking and ultimately contributed to Andrews being able to land with a barrage of vicious strikes to end the fight. Abedi often looks to get the fight to the mat, and to do this needs to secure the clinch position. Because of this Abedi is often reckless about getting into the clinch.
To effectively get into the clinch a fighter should strike their way in, distracting their opponent until they are at close range and can force their grappling on their opponent. Abedi on the other hand will largely plod forwards, arms outstretched and head down, until he lands in the clinch. The problem with this is that he leaves himself open to a range of strikes. His outstretched arms are away from his head and offer no immediate protection. He can't parry strikes either as he is looking down and not really aware of the incoming blows. Additionally, by lowering the level of his head he is a sitting duck for a swift counter uppercut.
This isn't to say Abedi can't strike. Indeed he has a very fast round kick to the body and his strikes are obviously powerful if they connect. Yet this offense is lessened by his defensive shortfalls.
If Andrews can again exploit Abedi's defensive weaknesses on the feet he will go a long way to securing another victory over the Swede. However if Abedi can drag Andrews to the mat with his arsenal of takedowns he may emerge the victor on his home soil.