The UFC's final event for the year takes place this weekend in Las Vegas. The fight card is headlined by a title fight between women's featherweight champ Cris 'Cyborg' and former bantamweight champ Holly Holm. The co-main event also features a highly anticipated fight between Dagestani grappling wizard Khabib Nurmagomedov and possibly the most feared striker in the lightweight division, Edson Barboza.
However nestled beneath these fights on the main card sits an absolute barnburner of a matchup. New Zealand based fan favourite Dan Hooker looks to continue to build momentum as he fights Englishman Marc Diakiese. Hooker is coming off his best performance in the UFC yet, where he knocked out UFC veteran Ross Pearson with a beautiful intercepting knee to the head. Alternatively, after recently suffering his first professional loss, Diakiese will be looking to rebound against Hooker and showcase his powerful and acrobatic striking.
Hooker has consistently traded wins and loses throughout his UFC tenure. He has a myriad of impressive stoppage wins from knees, elbows, headkicks and chokes, indeed out of Hooker's 14 career wins only 1 has come via decision. On the other hand out of his 7 career loses 5 have come via decision. More than anything this seems to tell us a lot about Hooker's fighting style. Hooker is largely an attrition based fighter insofar that he will wear his opponents down with forward pressure while at times taking a bit of a beating himself. He relies on his granite chin, eating several shots in order to land a shot of his own. While this looks bad from a judging standpoint it will often lead to his opponents spending a lot of energy to halt his forward pressure and leave them susceptible to his devastating Muay Thai skills.
Hooker's most recent fight against Ross Pearson was his most complete performance. In the past Hooker has seemed to limit his striking arsenal to a couple of strikes. Based on openings he and his coaches saw he would most often choose either the southpaw of orthodox stance, and employ three or four weapons to break down his opponent. Yet against Pearson Hooker employed his entire striking arsenal to breakdown and eventually stop the Englishman. This was perhaps most notable in his use of leg kicks. Hooker steadily took away Pearson's base, progressively inhibiting Pearson's forward movement. Once Pearson adjusted and started countering off of the outside leg kick, Hooker switched to the inside leg kick and snap kick to the body.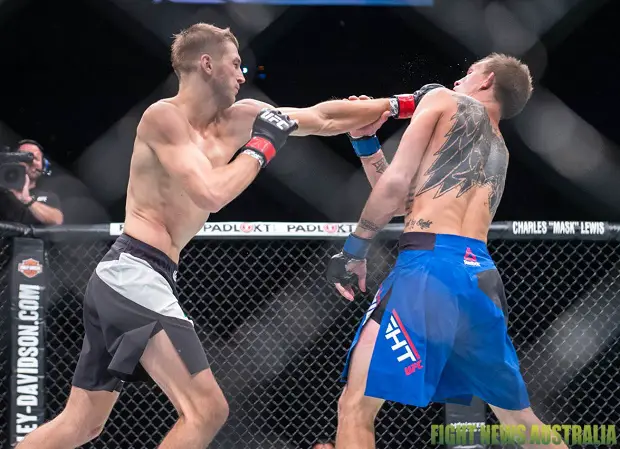 The most recent copycat move in MMA has been the low leg calf kick, which instead of attacking the thigh targets the outside of the calf area. Diakiese had a lot of trouble against this kick in his most recent fight against Drakkar Klose. Klose was able to land the kick several times at the beginning of the fight, dropping the Englishman and forcing him to switch his stance. If Hooker can take away Diakiese's base he will go a long way to stifling a lot of the Englishman's offense.
However this is a lot harder said than done. Diakiese is an incredibly athletic and destructive striker. He has one punch knockout power in his hands and a raft of spinning and jumping kicks that continuously keep his opponents guessing. In most of his UFC losses Hooker has been overwhelmed by offense. His fight against Yair Rodrgiuez is a perfect example of this. Rodriguez consistently attacked from every position and overwhelmed Hooker with offense to the point that the New Zealander seemed to spend a lot of time waiting for his opponent to attack as opposed to enforcing his own gameplan. Therefore if Diakiese can consistently keep up an offensive against Hooker he may be able to stifle his offensive capabilities.
This of course requires a great deal of cardio, as consistent offense is obviously draining. While he is very offensively minded, Diakiese is not really offensively consistent. His explosive and athletic attacks require a great deal of energy, and you will consistently see him attack in bursts, before spending the next minute or round recovering his energy.
The matchup is also intriguing from a grappling standpoint. In the clinch Diakiese looks for explosive throws, trips and slams, whereas Hooker uses his sharp elbows to cut his opponents. Diakiese will often shoot in on his unsuspecting opponents and look to attack from their closed guard with punches. However in nearly all of his fights Hooker has shown his aptitude for getting back to his feet. Once taken down Hooker will immediately scoot his back to the cage and wall walk up to his feet.
There seem to be obvious pathways through which either fighter can win this bout. Hooker could cut Diakiese's legs out from under him and inhibit a large portion of his offensive capabilities, before employing his versatile Muay Thai skills against the Englishman. Alternatively Diakiese could land a range of more powerful strikes and overwhelm Hooker with a smorgasbord of jumping and spinning kicks. Regardless the bout is set to be a mouthwatering display of mixed martial arts and shouldn't be missed.
Israel Adesanya set to fight Rob Wilkinson at UFC 221 in Perth