Natalie Gonzales Hills is self confessedly going through her warrior phase. At 27 years old, the Filipino born, Brit, now residing in Sydney, Australia has had her fair share of trials and tribulations on the rise to her ONE Championship début but the pint-sized powerhouse is not letting anything get in the way of her dreams of fighting at the highest level on the international circuit.
Like most Filipinos', Hills grew up in a conservative household; her mother and father naturally encouraged academia and whilst Hills complied for a time, completing a university degree in history and English literature, her love has always been with travel and training.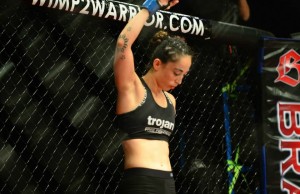 "If I could, I would be a nomad ninja who travels the world training, that would be my dream. It's not that training isn't hard but it's what I enjoy, the dream is to train twice a day and not have to work. My family always make fun of me because when I go on holiday I always want to go on a training holiday."
Hills was first introduced to mixed martial arts by her father, and started training at eight years old, however like most young women with age brought plenty of distractions; partying and the like. It wasn't until she was 21 that Natalie found herself back in the gym, boxing this time, before branching out into kickboxing and eventually MMA.
"I wasn't thinking straight away that I was going to be a fighter but I really couldn't see what other profession I might do in the future. I was born in the Philippines, and I had family there, so I had planned to stay in the Philippines and then train muay thai in Thailand. After that I had planned to go to Brazil but I ended up in Australia and that is where I met my boyfriend, in the gym, so instead of being here for three months I ended up here… well I've never left and it's been nearly three or four years."
The decision to fight professionally as a career came after making the transition into MMA, however like a lot of fighters starting out, Hills had to do so with very little financial support coupled with the time constraints of having to keep a full-time job.
"When I first got to Australia I was just doing hospitality to support my training and now I have an office job working 34 hours a week and part-time I am a personal trainer. I work 9-5 and I train early before work and in the evenings. If you look at my week it is packed out. Although I am training professionally now the dream is obviously making enough money that I can just train full-time."
"Nothing is going to be handed to me on a silver plate, I have to work for it. It definitely builds character having to work 9-5 and then finding the energy to learn and train, it definitely comes through in the fights. The endurance, the mental endurance as well, being able to cope with it."
Despite her unorthodox lifestyle, Hills parents have become supportive over time, although she knows deep down they are holding out for her to settle down.
"They both don't want me to fight but if I fight they tell me to win and they'll be supportive. Like once I tell them I've got something, they are always proud and they do want me to do well."
"As a woman you have to juggle a lot of things, I'm quite happy to keep training and whilst there is pressure to settle down, kids are not on the cards right now, this is my dream being in this promotion and I have to go for it, the time is definitely now to step up, it's almost perfect timing."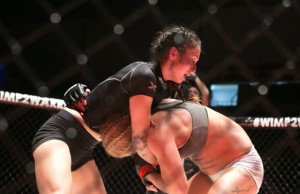 The opportunity to fight on a major promotion is few and far between for most athletes, let alone women, and when One Championship contacted Hills to fight up and comer Angela Lee, there was no question that she would take it, despite the fight being at 115 pounds.
"I wasn't planning on fighting at strawweight again but because of this opportunity, I just didn't feel like I could turn it down. She's young, 19 years old, I would hope at 27 I would be stronger than her."
Angela Lee is currently undefeated and riding the wave of hype that comes with being young, talented and a woman on the MMA scene. The local Singaporean is a submission specialist and whilst Hill's background is in muay thai, she is confident that the fight is a good match up. There are no misconceptions, however, that this is her biggest test to date.
"Angela Lee is undefeated, in amateur and pro, with first round finishes via submission. I've had submission wins too so I think in many ways it is a good match up. It will be exciting."
"There is pressure that it is my debut, and coming off two losses, I want to win. I really want to get back on the winning track and especially because it is my debut for the promotion, there is a lot riding on it. It is definitely less pressure for me, she has the hype, it's her hometown, I'm on a losing streak, and I'm the lighter fighter. In many respects people aren't expecting me to win and that just works in my favour because there is less expectation, so all I have to do is my best and when I win it will just look that much better."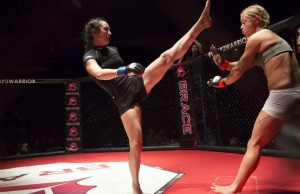 With MMA on the rise in Australia, Hills hopes that future athletes will have the opportunity to compete as amateurs before being thrown in the deep end of professional mixed martial arts.
"With Australian MMA, there is not much of an amateur scene at the moment, although with new promotions coming on board all the time, opportunities will increase. When you're a boxer or a kickboxer you might have 30-40 amateur fights and in MMA it just doesn't exist to that extent. My first ever MMA fight was a 3×3 and went on as a pro because we got paid. There are so many fighters that are technically 'professional fighters' but they are all beginners. You're taking fights that are paid, and go down as professional, but they are amateur rules or you might have only had a couple of amateur fights, which were more like interclub, with padding and things, then you get thrown into an MMA fight. I feel like there needs to be more opportunities for amateurs so they can hone their abilities before being thrust into the spotlight and being pro all of a sudden because that doesn't happen in any other discipline. And it is dangerous. People are completely out of their depth, I see it a lot and I think it's a problem. As the sport grows there will be more opportunities to get experience for amateurs which is important."
The sport has had its fair share of naysayers in Australia, and with the cage ban having recently been lifted in Melbourne, the nations sporting capital, Hills is under no false pretences that there is still a ways to go. Athletes like Ronda Rousey, however, are paving the way in bringing in mainstream sports fans eyes to screens and bums on seats like never before.
"Ronda Rousey, she has done everything for women's MMA and even MMA in general. People at my office job saw her on The Footy Show and they were mesmerised by her.  They didn't have a reference point before but now when they think of MMA, they think Ronda.  She's a pretty girl, she's clever, she's quick witted and it changes their mind. She's the ambassador you want for the sport."
Natalie Gonzales Hills squares off against Angela Lee in the first of a multi-contract deal with One Championship that will see her fight the remaining bouts at atomweight.
One Championship: Pride of Lions takes place at the Singapore Stadium, Singapore on November 13th 2015. Fights can be viewed at http://onefc.com/live-tv.html.
Follow Natalie Gonzales Hills on Facebook and Twitter.
Fight Card Announced to Date:
Ben Askren vs Luis Santos – Welterweight title
Deidamrong Sor Amnuaysirichoke vs Yago Bryan Farias de Morais – Strawweight title
Kotetsu Boku vs Major Overall
Natalie Gonzales Hills (AU) vs Angela Lee
Alain Ngalani vs Igor Subora
Edward Kelly vs Martin Nguyen (AU)
Amir Khan vs Jimmy Yabo
Benedict Ang vs Yohan Mulia Legowo
Nathan Ng vs Li Kai Wen