When 360 Martial Arts & Fitness lightweight Ethan Duniam (7-4) walks out to the cage in the main event of Diamondback 3 against his hometown opponent Anthony Bynoe (7-2), he knows there will only be a handful of loyal supporters cheering him on. Hailing as he is from Ulverstone on the northern coast of the Apple Isle, he has accepted that this will be his reality for most of his combat career.
"I've kinda accepted that if I want to keep pushing myself and trying to cement my spot in the top level, I'm not going to have a lot of hometown fights. I think there's one active Tasmanian promotion that's about to start up. Until they find their feet, I think I'll just keep fighting on the mainland.
"I guess the invader will be a common thing from here. It doesn't phase me too much. I know a few people who will be in the crowd."
In some ways, Ethan feels that fighting in foreign territory is an advantage.
"It's a little bit less pressure too I guess, not having the expectation of a thousand people on your back watching and expecting you to do well."
Ethan's unconventional striking style was singled out by his opponent as one of his strengths. Ethan explains how Australian Wing Chun pioneer Rick Spain's open mindedness allowed for the Chinese self-defense system's continued evolution in response to the rise of MMA.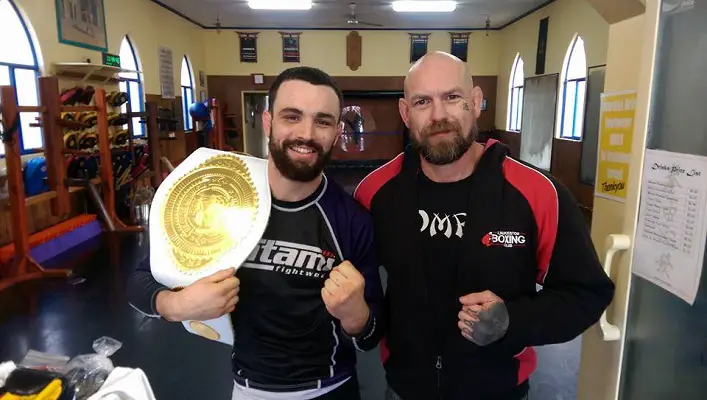 "Many years ago Rick Spain started training Wing Chun and then moved away from where he was doing it and I guess revolutionised it a little bit. Traditionally Wing Chun, hundreds of years ago, was a coming together of heap of different systems to create supposedly one superior system to help in a time of war.
"I think [Spain] felt, and I agree with him completely, that if that was the basis of the system in the beginning to integrate what martial arts work well, you would continue to do that throughout time, not to think it's completely finished there and then."
While Ethan won five of his first six fights, 2016 was a rough year in which he attained only one victory from four fights. Last year's contests were all against seasoned competitors. Kieran "The Stonecutter" Joblin, for example, is a veteran with almost thirty fights, many of which were against international competition. Ethan equipped himself well against "The Stonecutter", alternating between full guard and top position in a chess match on the ground before losing by decision. Ethan believes he has emerged from such challenges as a superior fighter.
Last year I probably stepped up in competition too quick. I don't regret it. The experience was really valuable; I got a lot of time in with the top guys [and] I think it's going to pay off this year.
While Ethan has scouted Anthony Bynoe to an extent, his main emphasis is on executing his own game plan.
"I know his one and two combos with his striking are quite accurate and his timing is very good with those so I will be on the look out for those, but other than that I'm trying to focus on what I can bring to the cage."
Ethan Duniam and Anthony Bynoe throw down in the main event of Diamonback FC 3 on the 16th of July at Adelaide Oval. A live stream of the event will be available right here at Fight News Australia.
Interview: Hometown lightweight Anthony Bynoe headlines Diamondback FC 3 in Adelaide