JJ Ambrose returns to Australian shores as he headlines Hex Fight Series 23 in a super-lightweight title bout against Abel Brites.
Update: Abel Brites is out and stepping up on extremely late notice is Hoshi Friedrich. 
Also on the card, Junior Tafa faces Kelvin Fitial, Nikos Trepca meets Sang Won Kim meanwhile two strikers in Jonathan Tuhu & Dzhabar Askerov battle it under MMA rules.
How to watch Hex Fight Series 23?
The only way to watch it will be via the online stream, exclusive in Australia on FITE TV. 
MMA – Hex Fight Series 23 "Ambrose vs Brites" – US$19.99
What time will Hex Fight Series 23 take place in Australia?
The bout will take place out of the Melbourne Pavilion and is expected to commence around 7:30pm AEST on Friday, 5 August 2022.
CLICK IMAGE TO PURCHASE STREAM FROM FITE.TV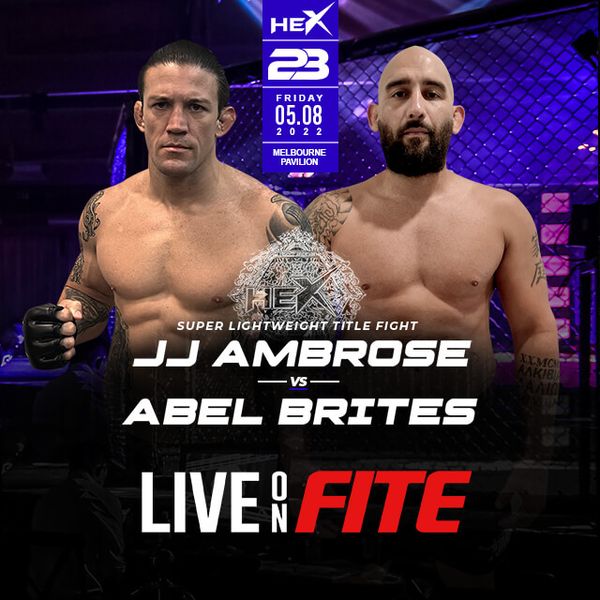 Fight Card (Pro):
Jonathan Tuhu vs. Dzhabar Askerov
Sang Won Kim vs. Nikos Trepca
JJ Ambrose vs. Abel Brites – Hex super-lightweight title
Yong Joo Lim vs. Sarmad Janahara
Kelvin Fitial vs. Junior Tafa
Seul Cheon Park vs. Josh Grove
Jeff Mesa vs. Joshua Riley
Hyung Jun Kwon vs. Semakadde Kakembo
*Last Updated: 4 April 2022