Mike Dolce strikes an imposing figure, intimidating almost…until he smiles. He has a sparkle in his eye that can only be found in the rare few that are pursuing their passion with gusto, and when he speaks, it is with a wisdom and authority of someone who has spent a lifetime perfecting his craft.
Dolce is in town for UFC 193, supporting his most well known client, Ronda Rousey. We sit in the lobby of the Crown Metropol, an upmarket hotel in the heart of the Melbourne Central Business District and despite being surrounded by luxury, Dolce is as comfortable as ever in black shorts and a black t-shirt. There is no pretense here.
As you can imagine, Mike Dolce is a busy guy. He has a burgeoning health and wellness empire, a group of athletes that he supports around the world, real estate investments, as well as a family and a new born daughter. For many, this kind of lifestyle would be overwhelming but for Dolce it is as simple as it is cliché: "love what you do, and you'll never work a day in your life."
Dolce is most well known for his work with athletes in the combat sports arena. He got his start working as a professional coach with Olympian level athletes before being recruited by one of the top mixed martial arts teams in the world to be their head strength and conditioning coach. The transition into his own business was a natural progression but it was his relatability with the athlete's, having been one himself, that made all the difference.
"It definitely helps me do my job better in knowing what the athlete goes through. Not just the training protocol, but the emotional side, the psychological side. There's a lot more to preparation than science can actually understand. There's this whole other, family effect, of the preparation, and all the pressure that these athletes go through. Having gone through multiple weight cuts myself, I know how it feels in order to cut the weight, re-hydrate and then go out there and perform efficiently and those without that experience can't quite understand the process."
Throughout the years, Dolce has taken on the role of nutritionist and diet coach to many mixed martial artists, but none more impressive than Ronda Rousey. At the time of this interview Rousey was still considered to be the most dominant athlete in the world with an undefeated record of 12-0. For Dolce, being able to be a part of the evolution of mixed martial arts, and the UFC's biggest star, has been a wild ride, one that he is totally aware has brought him amazing leverage to reach more people than ever.
"I started with Ronda three years ago now, and she was already a world champion, she was already regarded as one of the top females in the world. She didn't nearly have the fan base; she had maybe a couple of thousand followers on twitter and instagram, now she has millions. It's insane to see. Ronda Rousey is the Beatles right now. When we go anywhere we are absolutely mobbed, everyone knows her, from seventy-year-old men to seven-year-old girls. The power that she has is amazing and she hasn't changed as a person. She is still so honest and simple in a good way. When we are hanging out and it's just the inside people, there is no pretense, it's just her in her slippers and robe, or whatever clothes are clean, there's no Hollywood that follows her around. I think that is one of the reasons she is so popular. She's very real and honest, what you see is what she truly is.
"As Ronda's diet coach, it gives me a great opportunity to show the world, here's one of the most famous, fittest, females in the world eating real food. No pills, no powders, no potions, no special magic tricks, here's a girl that gets up in the morning and eats her oats and berries, she has her eggs and veg for lunch and grilled proteins for dinner. She drinks a lot of water, she doesn't drink soda or alcohol. It's very simple, basic nutrition and having the ability to show that to the world is very important, especially knowing how many people she reaches. They can look at social media and see that Ronda is eating the same breakfast as they are, it's very cool."
Dolce's stable of athletes also extends to current welterweight title contender Carlos Condit, Steven Ray, Manny Gamburyan and Mirsad Bektic, whom he believes will have a very similar career path to Georges St-Pierre. Dolce is also playing a pivotal role in assisting Thiago Alves with a drop from 170lbs to 155lbs. Although Alves has struggled to make 170lbs in the past, Dolce says his methods for weight cutting don't require an IV however he does have a strong opinion on the ban.
"I don't believe it (the IV ban) should be decided by bureaucrats, it should be decided by medical doctors. My athletes don't need IVs and rarely have my athletes in the past used IVs. Ronda has never IV'd and she's one the larger females in the weight class, and she's a female, which is a different anatomy all together. The team uses science to make sure the athletes are healthy without the IV by doing what we call a slow burn, we start the process early."
"Nuvo Uniao is one of the most famous teams in the world, they have Jose Aldo and Renan Barao. Now, as we all know, last year Renan Barao collapsed whilst cutting weight, and hit his head, causing a concussion and was pulled out of a world title fight against TJ Dillashaw. That is one of the top teams in the world that completely botched a weight cut. Nuvo Uniao was also responsible for a young man who died just over two years ago whilst cutting weight in a sauna. Now, I point to them only because they are one of the most famous and most experienced teams in the world. If they, one of the most experienced teams in world, have such fatal circumstances regarding a weight cut then wouldn't we assume that this issue could be rampant in other less experienced teams? Again, pushing forward the need for medical supervision with a doctor that decides whether the athlete needs the IV."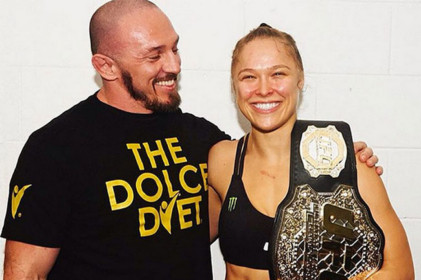 For Mike Dolce, he is his product; what he promotes he lives and breathes, which is why he is currently walking around the heaviest he has been in a long time. It's a testament to his commitment to the authenticity of his product, one that is not based on text books or leaning on past research; it's about being innovative and thought leaders in the health and wellness industry.
"I'm not usually this big, I'm bigger than I'd normally like to be, but for the last year I've been writing a book on how to gain muscle and I've had to live that. Just like '3 weeks to shredded' it was based on my personal weight cut. This is what I did and again I think our point of difference is we have a team of dietitians and when they start working for us we get told things won't work and I ask them why and they say I learned in school that that won't work and my response is, we have world champion athletes, Olympic athletes, we have practical application. I like to say, what science is studying now, we were doing last year. What we are doing is focusing on the health of the individual. We are past the point of calorie counting and macro nutrient rations and all those other fads, we just focus on the health of the biological organism of the human body."
'3 weeks to shredded', like the book he is working on now, was born out of personal experience. Dolce was working as the head strength and conditioning coach at team Quest in Portland, Oregan and started a women's fit program in an effort to soften up mixed martial arts and allow women entry into the gym. It was during this time that he was also fighting and cutting down from 210lbs to 170lbs. Naturally the women he was training at the time were curious as to how he was dropping weight so quickly, up to 40lbs in six or so weeks, and was getting inundated with questions and queries on how they could do the same.
"After classes I would end up spending hours with these women talking to them one on one and over time I realized I couldn't keep doing this. So, my wife and I, we wrote out exactly what we did, called it '3 weeks to shredded' and gave it to all the ladies in the class for free. They took it, they loved it, they lost weight and then they would come back and ask for another one to give to a friend, co-worker, daughter, son etc. We ended up going to the local college and printed off more and we would get even more requests. Eventually we decided to throw it up on the website we had at the time and we started selling one a day, then it went to three a day, and then ten a day. Then all of a sudden this thing just took off. It was literally a 50 page spiral bound pamphlet that looked like a high school book report, seriously, cause we had no financial aspirations, we just wanted to help people. Once we were selling ten a day, we decided to put some more production behind it, and from there it's become an international best seller. We've had revisions of the book that went immediately to number one and in April of this year we decided to put it online and make it more personalised."
The world of health and fitness can be very craze driven; every day there seems to be a new way to lose weight. Dolce, however, is determined to stay away from 'shiny objects' and focus on programs that will provide a foundation for a long, healthy life. Whilst some may argue that '3 weeks to shredded' feeds into this short term thinking, Dolce's reasoning behind the program is as clever as it is realistic.
"We decided to enter the market focused on '3 weeks to shredded' because we know the average consumer, the new dieter, quits most new program within two weeks. Even fitness centres and gyms, they go a few times the first week, a little less the next week and not at all the third week, though they keep paying. Why we entered the market with '3 weeks to shredded' is because we know you will see immediate results. We have a 14 pound weight loss average in that three week time frame for the average user, for the dedicated user it's a pound a day, 21 pounds in 21 days. That is what I lost, that is what Thiago lost, that is how all the athletes lose weight. If you are that dedicated you can push that 14 pound average a little higher."
"The big difference between this and all the other diet programs is we are not a fad. I say this because a lot of other programs are high fat, low carb, they exclude grains etc. They are in essence exclusionary and we don't exclude anything or anybody. What we look for is what is nutritious for you. We cater for all types – hunters, power lifters, mixed martial artists, vegans, college kids, mums etc. It's based upon longevity science, health and fitness, and when you focus on health you can do anything and that is our approach. If the body is completely healthy then it is just about the training demand. What are you training for and what is your specific short term goal?"
When it comes to people and excuses, the one that seems to come up the most is time. With the world more switched on than ever before, making health a priority has fallen to the wayside and convenience rules. Mike Dolce doesn't have time for that nonsense.
"No one is busier than me, I mean I am on another continent right now and I brought my own skillet, my own juicer, I brought everything I need to make my own meals but also the meals of my athlete. I brought one piece of luggage and a backpack, that's less than most people take on vacation. I'm training multiple times a day so I've got my training gear, I have nicer clothes, I have everything I need plus the ability to make all my own food. I take a ten minute walk down to the grocery store, there happens to one right here, and I get the food that I need to feed Ronda and myself. This morning for Ronda and I, I made hardboiled eggs. There's the tea kettle, you just drop the eggs inside the tea kettle, click boil and let it go for 12 minutes and then it is done. That's exactly what I made for Ronda. I made a bunch of salads, with spinach and kale, so it's all just an excuse for people to go the fast food."
So, what would we find in Mike Dolce's fridge and pantry?
"You're gonna find completely organic, locally raised produce. Fruits, vegetables, nuts, seeds and quinoa. We live in Las Vegas, which is a desert, so we went through the added expense of having a pomegranate tree, a lemon tree, a fig tree, a nectarine tree and a herb garden just so we can be closer to our food and get our hands dirty. It can be hard with time to have a fully functioning garden but twice a week we go to a local farmer's market and we bring back as much we can from there. Number one because it is the healthiest and number two we're supporting our local community, which is what we preach. We don't bash the large corporations and GMO, we just take a more positive approach and buy from the local farmers and support our local communities. You'll also see lots of wild caught game like salmon, elk is popular right now, grass fed beef, free range eggs. That is what you'll see, and all of our recipes come from our house, we don't pull 'em out of a book or get it online, my wife and I we just get in the kitchen and try and find popular recipes that I can turn into something healthy with the same flavour or better."
Mike Dolce is a 2X trainer of the year and a best selling author. His latest program '3 weeks to shredded' can be found at TheDolceDiet.com.
Twitter: @TheDolceDiet
Facebook: https://www.facebook.com/thedolcediet/