After two consecutive losses, Auckland MMA trained Ev Ting needed a victory and on Friday night the 29-year-old got just that, submitting Japanese Daichi Abe on the ONE Championship: Masters of Destiny card.
The win was looking in doubt within the opening minute as the two exchanged heavy strikes. Abe got the better of the exchanges, staggering Ting with a right which was followed up with heavy strikes while Ting looked to recover. Ting worked back to his feet but was sent falling in the corner by another right that clipped him behind the ear.
Ting did well to regain his senses and with just over two minutes left in the round, he put the Judoka expert on wobbly legs with a right on the jaw. The see-saw battle turned again though with Abe flash dropping Ting with another right before the end of the round in what was highly entertaining round.
Born in Malaysia, Ting had the crowds support which came to life in the second round. Ting dropped Abe with a heavy right. He followed it up with heavy ground-and-pound on top and when Abe made the mistake of turning his back to try and escape, Ting pounced, locking up the rear-naked choke submission to get the tap.
The win took his record to 17-6 (ONE 11-4) while Abe, a three-time UFC veteran, drops to 6-3 (ONE 0-2). It's the first time the 27-year-old Japanese fighter has been submitted in his professional career.
In the opening fight of the night, Australia's Josh "Timebomb" Tonna came from behind to win under One Super Series, kickboxing rules which they use the smaller 4-ounce gloves.
His opponent, Yoshihsa Morimoto, kept a high tempo early, throwing hard punches to the head and body but Tonna, who trains out of the Stockade Training Centre and MuayU, started to turn the tide in the second round and by the last round, looked to be in control, in particular landing big knees to the mid-section.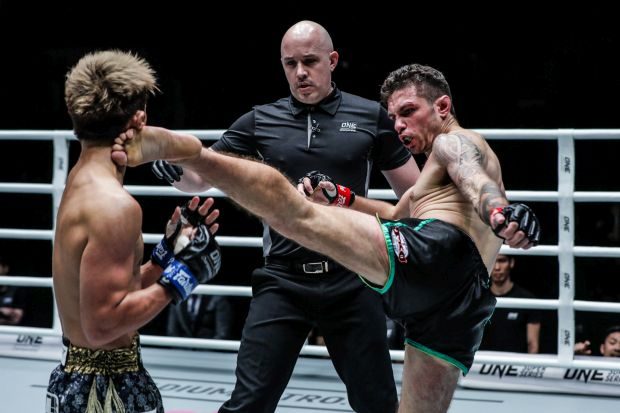 The bout went all three rounds with Tonna earning the unanimous decision to take his One Championship kickboxing record to 2-1.
Also on the card, Kenny Tse, who trains out of Victorian gym Team Ultimate, lost a unanimous decision against Kyokushin Karate champion Hiroki Akimoto in a kickboxing bout.
In the main event, Giorgio Petrosyan booked his spot in the ONE Kickboxing featherweight tournament semi-finals with a decision win against Petchmorakot Petchyindee Academy.
The event took place at the Axiata Arena in Kuala Lumpur, Malaysia and was broadcast via the promotions official application.
Main Card:
Giorgio Petrosyan def. Petchmorakot Petchyindee Academy via Decision (Unanimous) – Super Series Kickboxing
Michelle Nicolini def. Angela Lee via Decision (Unanimous)
Ev Ting (New Zealand) def. Daichi Abe via Submission (Rear-Naked Choke), Rd 2, 4:44
Gurdarshan Mangat def. Abro Fernandes via Decision (Unanimous)
Jihin Radzuan def. Jomary Torres via Submission (Triangle Choke), Rd 1, 3:07
Troy Worthen def. Chen Rui via KO/TKO (Punches), Rd 2, 3:59
Hiroki Akimoto def. Kenny Tse (Australia) via Decision (Unanimous) – Super Series Kickboxing
Preliminary Card:
Janet Todd def. Chuang Kai Ting via Decision (Majority) – Super Series Kickboxing
Dae Sung Park def. Kimihiro Eto via KO/TKO (Punches), Rd 2, 1:59
Aleksi Toivonen def. Akihiro Fujisawa via Submission (Rear-Naked Choke), Rd 1, 3:27
Mohammed Bin Mahmoud def. Saiful Merican via Decision (Unanimous) – Super Series Muay Thai
Adrian Mattheis def. Li Zhe via KO/TKO (Punches), Rd 2, 1:51
Bozhena Antoniyar def. Bi Nguyen via Decision (Split)
Sorgraw Petchyindee Academy def. George Mann via Decision (Split) – Super Series Muay Thai
Josh Tonna (Australia) def. Yoshihisa Morimoto via Decision (Unanimous) – Super Series Muay Thai
Sayid Arslanaliev eliminates Ev Ting from One Championship tournament