The old saying 'when one door closes, another one opens' could not be more true for Damien Brown.
Released from the UFC at the start of 2018, Brown has found new life fighting in Japan under the Rizin Fighting Federation banner.
With two wins from two fights, Brown's aggressive fighting style has been embraced by the Japanese MMA fans.
"I have Japanese people messaging me, rooting for me saying they want me to win," Brown told Fight News Australia.
"It's crazy, leading into the last fight I was fighting a Japanese guy and I had messages from Japanese people in Tokyo saying that they are supporting me and wanting me to win.
"I have Japanese people telling me they are going to be driving from Tokyo to Osaka, just to watch me fight."
https://www.instagram.com/p/B1F9R5onsNX/
You can hear the excitement in Brown's voice as he explains how the Japanese have embraced him. Fans are queuing for his autograph and putting their support behind him. For Japanese MMA fans, wins and losses don't tend to matter as much as a putting everything on the line, something Brown has continually done throughout his lengthy professional career.
Life after the UFC has been good to Brown, not only has he remained undefeated with two stunning victories, he has successfully launched his own gym and will now compete in the upcoming 8-man lightweight Rizin Grand Prix. Brown believes winning the tournament would cement his legacy as one of the best lightweights to come out of Australia.
"I think the Rizin Grand Prix is going to put me in a spot where people take notice," Brown said.
"I feel like if I can win the grand prix, it would certainly put me in a position where it would be hard to argue about me not being one of the best lightweights that has come out of Australia."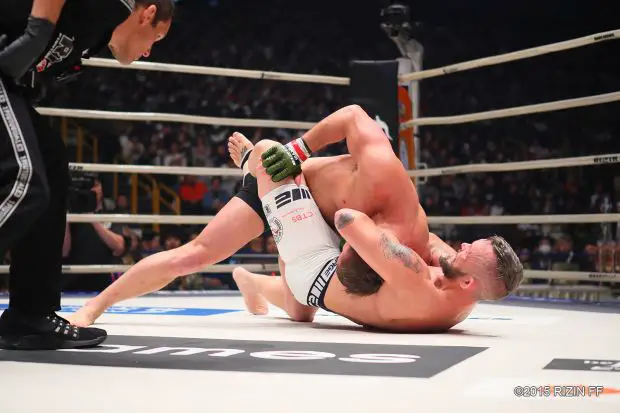 The Rizin Lightweight Grand Prix begins on October 13. In years gone by, such tournaments would have taken place in the one night, something Brown wishes was the case this time around.
"I was hoping that was the case, I would fight three times in one night," Brown said.
"It wouldn't worry me; I would love it. One hundred perfect, if they want to do that in the future, I would do that too."
This time around, however, the grand prix will go over three nights with the finals expected to take place on the annual Rizin New Year's Eve show. Despite all fighters being named for the grand prix, Brown is still unsure as to who he will be fighting in the opening round, which is less than a month away.
All participants confirmed!

RIZIN FIGHTING WORLD GP 2019
LIGHT WEIGHT TOURNAMENT

・Johnny Case
・Tatsuya Kawajiri
・Roberto Satoshi Souza
・Hiroto Uesako
・Luiz Gustavo
・Damien Brown
・Patricky "Pitbull" Freire
・Tofiq Musayev

?️ https://t.co/VYvwCQXU37 pic.twitter.com/w24meq6XMB

— RIZIN FF English (@rizin_English) September 11, 2019
"I want to fight Patricky Freire first, that Brazilian from Bellator," Brown said.
"I feel like I'm a Rizin fighter and Bellator is sending him over to play with our turf.
"His brother is the lightweight champion in Bellator, give me Patricky in the first round, I'll go on and win the grand prix and then beeline straight for his brother."
Rizin Lightweight Grand Prix Fighters:
Damien "Beatdown" Brown (19-12)
Hiroto Uesako (16-7)
Patricky "Pitbull" Freire (21-8)
Roberto "Satoshi" De Souza (9-0)
Tofiq Musaev (15-3)
Tatsuya "Crusher" Kawajiri (37-13-2)
Luiz "Killer" Gustavo (9-1)
Johnny "Hollywood" Case (26-6-1)
Brad Riddell set to fight Jamie Mullarkey at UFC 243 in Melbourne