"My goal is to get into the UFC by 22."
As a 20-year-old yet to make her MMA debut, you could say Chelsea Hackett was a little ambitious when she spoke to Fight News Australia earlier this year. Checking in with "Hammer" ahead of her fight on Eternal MMA 49 this Friday, she provided an update.
"It's – yeah, that's still the plan," she laughs.
She knows how it sounds.
"This time next year," she qualifies, still with a chuckle in her voice. "I kinda want to have my foot in the door, but we'll see. We'll see what happens."
However, there's a reason Hackett is one of Australia's most promising female prospects. A former Muay Thai fighter, she compiled a record of 16-4-3 in 23 fights and claimed back-to-back gold in the IFMA Muay Thai World Championships in 2014 and 2015. But even before Muay Thai, she'd invested four years in taekwondo and earned her black belt in the discipline. After committing to MMA last year, she now has two fights under her belt.
Those bold plans aren't so bold, really.
Having said that, she's intent on enjoying the journey and isn't looking to rush. And for her, the novelty of being a young UFC signee isn't the incentive.
"UFC is the biggest pedestal to get to and I think when you get there, it would feel like all your hard work has paid off; all the hours in the gym, all the years fighting," she explained. "I know I'm young and everyone says, 'Oh, you're so young', but I've been doing martial arts since I was 8. I'm now 21. This is something I've done for so long. It's not like I've done it and then got sick of it and had a break. I've done this full time since I was 12. I just think that I have what it takes to get there and I can get there at a young age."
That she intends to do by building her resume from the best fighters Australia and New Zealand has to offer, which includes Nicole Szepesvary, a Brazilian jiu-jitsu specialist, whom she faces on Friday. Although she hasn't competed for almost two years, Szepesvary will be the more experienced MMA fighter, entering the bout with a 2-1 professional record and 4-0 amateur record.
"She's obviously got the jiu-jitsu background. She does show a lot of holes in her striking – her standup game, but I feel like it has worked for her," Hackett said. "But I definitely think coming in to fighting me, that's not gonna be an advantage for her and I'm going to make sure I make it a disadvantage."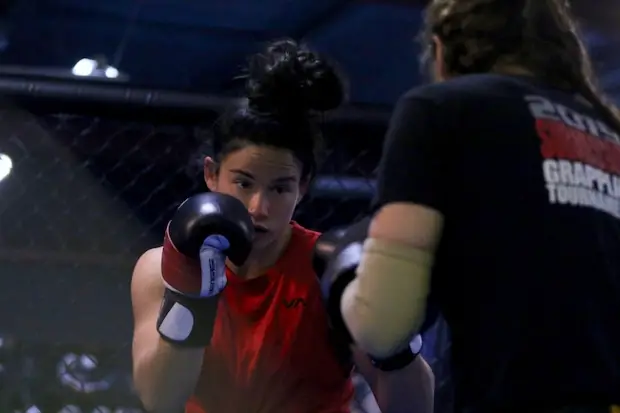 The bout was originally scheduled for Eternal MMA 48 in Melbourne, the same weekend as UFC 243, but Szepesvary had to postpone the fight due to injury. Although she was excited to be competing in Melbourne for the first time on a big card, Hackett is consoled by the fact she'll be fighting at home on the Gold Coast.
Facing an additional six weeks of camp, the CMBT Training Centre athlete "reset" her mind to the new date and continued to train. It's an experience Hackett has become familiar with in her brief MMA career.
"I had like three or four pull-outs for my debut. My last pull-out happening three days before the fight, which was devastating."
Her actual debut opponent, Mel Zeman, offered to face Hackett on three days' notice, but being based in Thailand made it logistically too difficult to organise in time. However, Hackett "accepted her challenge" and the bout was made for eight weeks later.
Attempting to stay active has been a difficult task since committing to MMA. Hackett feels as though she's been in camp for the whole year in trying to line up fights. While she believes Australia has the quality of competition needed to get her UFC ready, she admits "the pool of women's MMA in Australia is quite small."
Having bypassed the amateur scene, Hackett is 1-0-1 In her only two professional MMA fights. In her last bout at Eternal MMA 46 in July, Hackett defeated Danielle Hayes via unanimous decision.
"[Hayes] was a credible opponent; she was really good," said Hackett.
With 10 Muay Thai fights of her own, Hayes went 3-0 as an amateur before dropping her professional debut prior to the bout with Hackett.
"Three of those fights were in [Las] Vegas, so she's been at that level, and the fact that I got to fight her and step in the cage with her and beat her on my second MMA fight, I think that gave me really good credibility as well."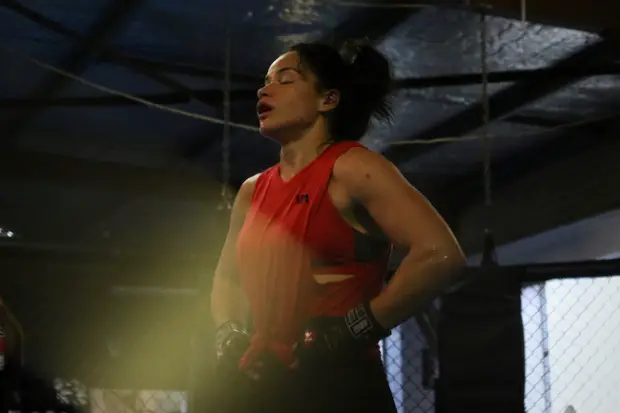 Hackett's debut in May was a little less smooth. Just one minute into the fight, she found herself stuck in a deep armbar.
"When I watch the fight back it freaks me out a little bit because my arm was fully extended, but I just remember being in that exact moment and my mind was so strong," she explained. "There was just no way I was going to tap."
An armbar which Zeman seamlessly transitioned into a snug triangle choke made for two very intense minutes. Eventually managing to shake Zeman off, Hackett freed herself and regained composure. Perhaps a little too wary of being in that predicament again, she was deducted a point for grabbing the fence during a takedown attempt. But the following two rounds were another story entirely. Hackett completely dominated Zeman on the feet, showcasing a relentless, multi-faceted striking attack. The bout, ultimately ruled a draw, was a huge lesson for Hackett.
"I learned so much from that fight. I learned a lot about myself and also things I needed to take into my second fight. I think the biggest thing was, with my second fight, I wanted to prove that I wasn't just a Muay Thai fighter and it was trial and error coming into MMA. It's not like that at all. I look at myself as an MMA fighter now and that's what I want to be known as."
Eternal MMA 49 takes place at Southport Sharks on the Gold Coast in Queensland this Friday, November 1. Headlining the card is a lightweight title fight between champion David Martinez (6-0) and Josh Togo (6-3). The main card, which features Hackett vs. Szepesvary, will broadcast live on UFC Fight Pass at 9.30 pm AEST.