Mixed martial arts in Australia is experiencing a period of success unlike any time before it. With its first ever UFC champion and numerous fighters in the top 10 of their division, Australian fighters are proving that they are more than capable competing on the world stage against the sports' elite.
For all the Australian fighters that you see competing in the UFC, there are countless more fighting each other on the local Australian circuit in the hope that they can one day do the same. For the continued growth and success of the sport in this country, it is vital that local MMA in Australia remains strong. Unlike other sports, there is no government funding for MMA in Australia. Athletes require sponsors to aid them in their quest to chase their dreams as do promotions so that fighters have a platform to showcase their skills.
Unibet Australia has been a staunch supporter of Australian MMA from the grassroots of the sport all the way up to the elite level for many years. Beginning a tilt at the top tier with Rousey v Holm, Unibet sponsors and spotlights local fighters, like Kitt Campbell, Jimmy Crute & Alex "The Hitman" Gorgees, all the way up to elite UFC competitors such as Alex Volkanovski, Astro Girl Alex Chambers and UFC middleweight champion Robert Whittaker.
Unibet's Engagement Manager Matthew De Angelis says that Unibet prides itself in its ability to support Australian mixed martial artists.
"I talk to fighters often, who have dreams and are grinding daily to make them a reality," De Angelis said.
"That's why Unibet is there. More brands that support Australian athletes should be too. Australia is pumping out world class fighters, a brand with those same winning values is now a part of that journey."
Despite all the success of Australian athletes in MMA, the sport still struggles to find the sort of mainstream acceptance that is found in other codes, this can make sponsors difficult to come by.
"People who aren't fans of the sport assume that fighters are tattooed rough nuts that you couldn't turn your back on," De Angelis said about ongoing perceptions around MMA.
"In reality all the fighters I've spent real time with are the most welcoming, positive and are kindest blokes around. It's like nothing else in all the professional sport I've been involved in. I'm pretty sure the Mohktarian brothers would help me move house, if I asked nicely."
In Addition to supporting Australian fighters, Unibet is also the official partner of Hex Fight Series which has successfully put on 15 events since 2014. This Saturday night Hex will return to Melbourne with the event to be aired free and exclusive in Australia on Unibet TV.
"The Hex proposal came across my desk years ago, filled with graphs and charts and performance stats but all I had to do was pick up a remote and tune in," De Angelis said.
"I saw a polished broadcast program, a full and frenzied crowd and a calibre of match up that could slot in to a UFC card. Guys like Gorgees & Crute put on a hell of a show. Hex has fighters I follow as religiously as my favourite UFC, Bellator, BAMMA & ONE Championship guys."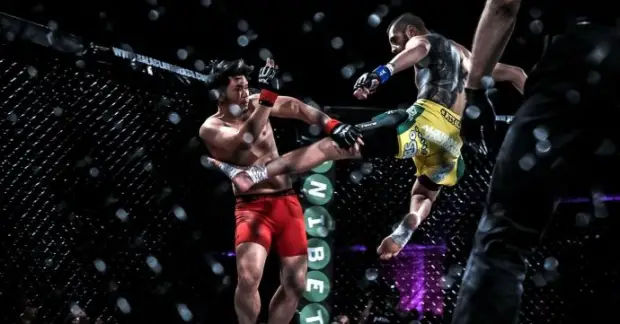 This weekend's live offering will be the second time Unibet has shown Hex on its live streaming service. While Unibet did show Hex 15 back in July, circumstances outside of its control meant the stream did not work as expected. De Angelis assures that the issues have been ironed out and that there will be no issues for the coming weekend.
"Regarding last time at bat & Hex 15, once we heard that Fox Sports wouldn't be airing it live, we truly tried to move mountains so that MMA fans across Australia could watch it live," De Angelis Said of the last time Hex aired on Unibet's website.
"It also meant that those without pay TV could get a live look in as well. It was a challenge within the timeline and we encountered what we will now just call learnings. For Hex 16, as the only place to watch Hex live, we've got it sorted and will be offering the stream for free for Australians."
Hex 16 takes place this Saturday night at the Melbourne Pavilion and will feature a host of fighters looking to stamp their mark on Australian MMA scene. The main event features a light-heavyweight contest between Nathan Reddy (6-1) and Parminder Singh (1-0) of India. Markets for the event can be found at Unibet.
https://www.instagram.com/p/BnQAO_DFOo8/?taken-by=hexfs
Tai Tuivasa set to fight Junior Dos Santos in main event of UFC Adelaide