It's a typical Tuesday afternoon for Hoshi Friedrich, dressed in shorts and a t-shirt, he's just finished up training at the gym he founded in Lilydale, Kings Co MMA. It's nothing special; a colorbond shed kitted out with a mat, a boxing ring and bags surrounding the perimeter. It doesn't need to be though, for the guys that train inside these four walls, this is where the magic happens.
We take a seat outside the gym, in the grass, Friedrich despite being the stanch fighting professional is relaxed and informal. He loves a chat and has no issues talking about his journey from a kid who started training in karate and judo under the tutelage of his father, Stephan, to now being one of the most well-known names on the Australian MMA scene, and one of the most exciting to boot.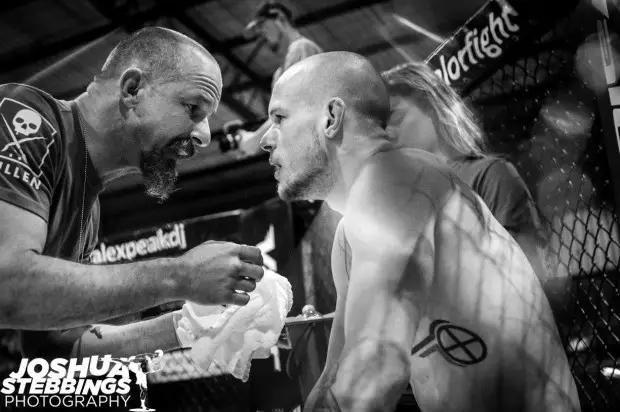 PICTURED: Hoshi Friedrich & Stephan Friedrich // SOURCE: Joshua Stebbings Photography
By day, Hoshi is an Operations Manager and therapeutic classroom worker for Knightlamp, a consultancy that develops successful models of therapeutic care and healing approaches to trauma and developmental trauma in young people. Finding a balance between professional and personal life can be a test for most people however Hoshi takes it in his stride insisting that mixed martial arts has been beneficial in his work with Australia's youth.
"Public perception and reality is very different. I live the reality. What children experience when they are with me, and what teachers and parents, and anyone who interacts with me will learn when they are working with me, is how to better their lives. That is what martial arts is, not what the media says it is, and so it is beneficial in my work."
Whilst challenges are always part and parcel of anyone's journey, Friedrich notes his biggest struggle to date was overcoming a major knee injury earlier in the year. The knee injury, which saw him on the side lines for two months, was sustained during a jiu jitsu training session.
"The guy did something not very smart, it happens in the sport, and he blew out one of my ligaments."
Although surgery was not required, the time away from training and competition took its toll on Friedrich's confidence, not so much mentally but physically.
"Physically I like to be in top shape and with the injury I couldn't train as much as I wanted or needed to because of a limited schedule. It does affect your confidence in using the knee but fortunately I had great rehabilitation and I really engaged in the process to get back as quickly as possible."
It was during this time that Hoshi had the opportunity to spend time with his family and reflect on what he would have done differently.
"My mum had said to me that in life you have to accept that some people are just going to live an ordinary life. I do not accept this principle and it's not for me and it's not for anyone. I don't believe that is actually true and so I made the decision that when I got home I would start my own gym."
And from that, Kings Co MMA was born, a gym Friedrich says embodies the mantra of "Love community, Culture & Combat."
"I wanted to train people who were like me when I was growing up, they wanted a place to go to get away from high school and that sort of thing. In essence why I started doing it was because I wanted to create a home away from home for these people."
It is clear that Friedrich's heart is with people, it is in helping others that he has found true passion. For Hoshi starting Kings Co MMA is not about being the best gym in town or big noting himself, it is genuinely about creating a culture and lifestyle for people to be a part of.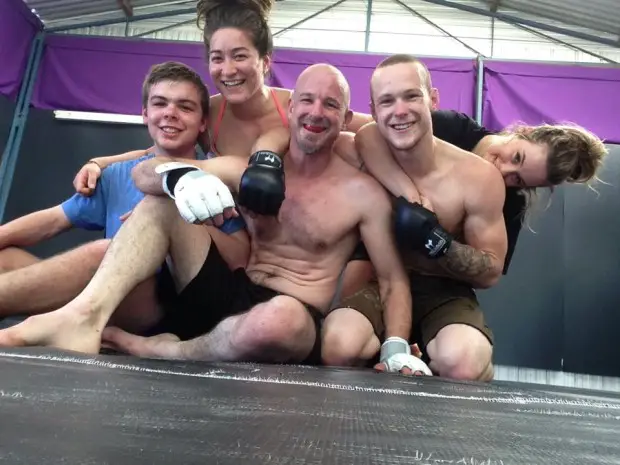 PICTURED: Hoshi Friedrich training at Kings Co MMA // SOURCE: Hoshi Friedrich
Since making his professional début back in 2013 against Eddie Trewin at Valor 6, Friedrich has gone on to win four of his seven fights, all of which have resulted in finishes. Despite his obvious ambition to compete on the world stage one day, for now he's only looking ahead to the next fight; a shot at the Gold Rush welterweight title where he takes on undefeated Sam Hayward (5-0).
"I always look at the next fight, I don't usually look past it. Everyone has career aspirations and career plans and I'm very much the same. When people ask me what I want to do, my response is always, well, the next fight I'll be 5-3 and then after that I'll be 6-3."
"Sam (Hayward) is 5-0 so he's obviously not a chump. I don't want to say that the people he has fought are chumps either but at the same time I will draw attention to the fact that everyone he's fought, it has been their debut fight with the exception of one fighter who was 1-0. I started my career against a guy who was 2-0 as a professional (8-2 overall) and had a ton of knock outs. That was my debut fight with fourteen days' notice. I didn't pussy foot around, I just jumped straight in and I feel that is the best way to do it, for me. Everyone else is different though, everyone takes a different approach and do it their way, so if his way is working his way up fighting different prospects then that is all well and good but come a couple weeks' time he's not going to be fighting an up and comer. I've fought the best in the business here in Australia and that is all there is to it."
Steve Moxon and MC2 developed Gold Rush MMA as a way to bring the cage to country Victoria. When looking for an opponent for local fighter Sam Hayward, Moxon could not look past Friedrich.
"When I am matching making for all my shows, I don't look for the easy hometown win or who is going to sell the most tickets; I look for fighters that are professional in and out of the ring. I wanted a main event that people would never forget. Sam Hayward wanted a top fighter with a good name, so I spent many days and hours researching the best fighters that Australia had to offer and I was lucky enough to come across Hoshi Friedrich. He and his coach/father are both tough as nails, very professional and promote themselves very well. Then I saw Hoshi had just come off an amazing win where he cut his opponent to bits and won in a very impressive fashion. I had to have him on my show."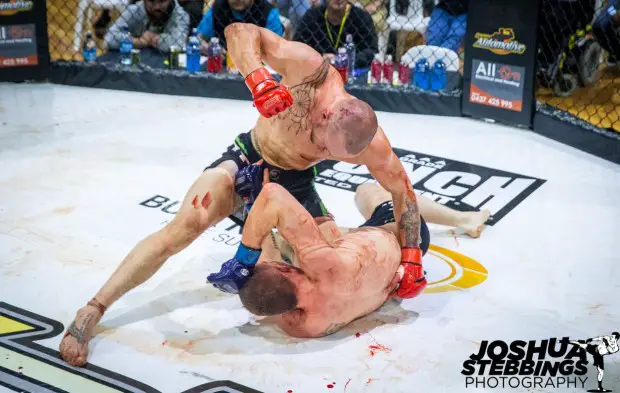 PICTURED: Hoshi Friedrich & Damon Upton-Greer, Valor 9 // SOURCE: Joshua Stebbings Photography
Despite being in the early days of his career, Friedrich has established himself as the fighter to watch and he hopes that this will afford him many more opportunities in the future as he looks to take his career overseas.
"I want to fight internationally by next year. Next year is the year I want to go international whether that is UFC, Rebel FC, with Bellator or with One. I don't care, I want an international contract. I want to start showing the world what I am about. I am one of the more entertaining fighters on the Australian MMA scene and there's a reason for it."
With Melbourne ready to hit the world side stage as the host of UFC 193 in November, the timing is right for the local MMA scene to take advantage of the increased media attention, and to ride the wave of a massive promotion's ability to legitimise a sport which is really only in its infancy in Australia. Whilst Friedrich agrees that this is a unique opportunity for the UFC, he is adamant that the local scene enforce better regulation and refereeing in the future to ensure the safety of the fighters.
"Promoters like Brace and Valor lead the way in terms of local promotions that exude professionalism and treat fighters exceptionally well. Now it's just time to make that the norm not the exception."
Hoshi Friedrich faces Sam Hayward for the Gold Rush welterweight title on Sunday November 8th at the Mercure Hotel and Convention Centre in Ballarat. Tickets are available at www.stevemoxon.com.
Fight Card Announced to Date:
Sam Hayward vs Hoshi Friedrich – Gold Rush welterweight Title
Regan Neoh vs Jesse Medina
Jeremy Joiner vs Adam Abdulhak
Dom Macri vs Darren Gn
Yuting Wang vs Andre Nguyen
Frank Swagler vs Dylan Orchard
Rhylie Kim vs Junior Milo
Jermaine Chase vs Dylan Bishop
Robert Gravenal vs Mafi Ahokava
Junior Faatui vs Jake Chynoweth
Conan Sinclair vs Lendyl Borganah