Australian featherweight champion Alexander Volkanovski does not want to leave any doubt this time round when he defends his belt against Max Holloway.
On Sunday morning at UFC 251 in Abu Dhabi, the two will meet for the second time in seven months after the Australian took the belt from Holloway in a unanimous decision victory over the decorated former champion. Volkanovski feels he put on a dominant performance to win the belt, but the Hawaiian is not so sure.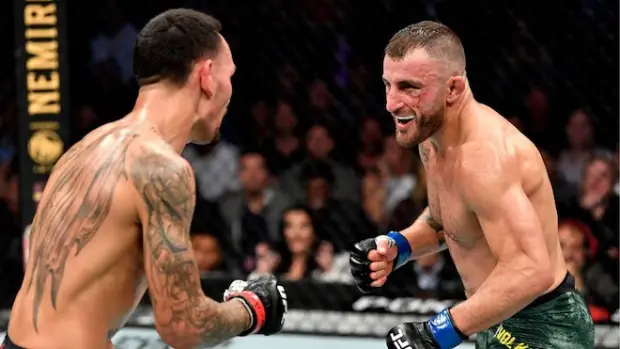 In interviews leading up to UFC 251, Holloway has conceded little from their first encounter, feeling that the fight was a lot closer than the score cards suggested.
"He wants to say that he thought he won, I'm going to put him away," said Volkanovski at a virtual media day for UFC 251.
"I sound like I am upset about it, I'm angry about it, obviously I am using it as motivation, that's why I've got something to prove, that's why I am going to go out there, and I'm going to finish him."
"If he wants to be sour about, you wait until I take him out this week, he's going to be really salty."
Say hello to #UFCFightIsland #InAbuDhabi @VisitAbuDhabi pic.twitter.com/QYShUFaPs7

— UFC_AUSNZ (@UFC_AUSNZ) July 6, 2020
Aside from the change of scenery, animosity between the two is a noted change from their previous bout where both fighters gave glowing reviews of each other before and after the fight.
Volkanovski and Holloway will Co-Main Event UFC 251, which kicks of a month of fights on Yas Island – dubbed 'Fight Island' by the promotion – including the return of former Australian Middleweight Champion Robert Whitaker on 27 July.