The UFC featherweight champ Alexander Volkanovksi envisions a stand-up battle in his bout against the UFC lightweight champion Islam Makhachev.
In a recent interview on The AllStar Podcast, Volkanovksi gave his thoughts on how the fight would go down against the Dagestani wrestler in Perth.
"I mean I think it's going to be more of a stand-up battle," Volkanovski said.
"Obviously, he's going to shoot earlier with my movement, and I think he is going to try to cut me off. He's going to probably work his striking, and I'm not saying his striking is bad, but he's going to be that little bit uncomfortable with my movement and things coming off weird angles than he's used to and the timing that I have."
In Volkanovski's most recent title defence against Max Holloway, the champ was able to showcase that he is lightyears years ahead of the division.
His striking is crisper, with more angles and better timing. With the Aussie being able to dominate one of the best strikers in the UFC, he thinks that Makhachev will struggle to find his rhythm.
"I don't care how strong you are," Volkanovski continued.
"I don't care how fit you are, your gonna slow down, and you're going to get weaker. If he manages to get me down, I will get up, and it will be on the feet. I think he's going to understand that. I feel like I'm going to catch him, man, because I know I need to capitalise on the feet.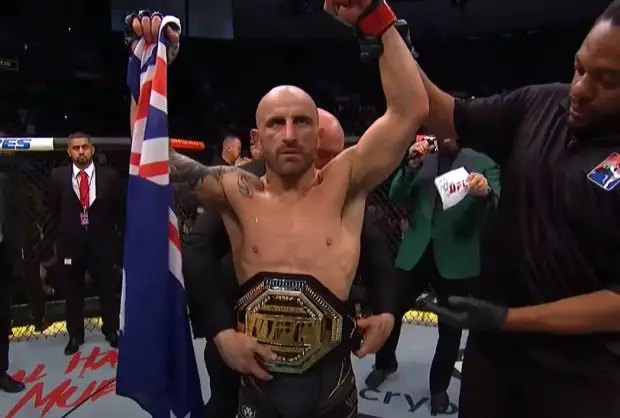 "I'll get a bit more technical with this where usually when I'm fighting other guys, I know their chances are more likely to be a punches chance if you get what I mean. So, I got more of a safety net on the feet. I'm the type of champion that will take some risks, put on a bit of pressure, attack, and throw a bit of volume, but I still have a safety net around it. But, with this fight, I will have a safety net, but I need to capitalise on the feet, I can't sit there and just take my time and be real patient and be so worried on the feet because I don't want to let rounds get taken away from me."
The champ has said that this fight camp is like no other, he can't go in and do what he has done in the past with other featherweight contenders. He needs to up his game, and his level to be able to compete against Islam Makhachev.
Jack Della Maddalena set to fight on home soil at UFC 284 in Perth