On a four fight losing streak, veteran fighter Adrian Pang came into the One Championship cage with a determined game-face and was able walk out with a TKO victory against Kota Shimoishi.
The two lightweights clashed on the main card of One Championship: Heart of the Lion which took place at the Singapore Indoor Stadium on Friday night.
His opponent utilised his years of Judo experience to get an early takedown and he quickly transitioned to side-control. The Papua New Guinean born Pang stayed calm, though was forced to defend a tight heel-hook which he exploited to take top position. There he rained down strikes as a cut opened up over Shimoishi's eye. The two battled for position and Pang, a veteran of over 35-fights, momentarily took the back as the Japanese fighter reversed with a kimura attempt. Pang escaped to his feet and Shimoishi failed with another takedown attempt. That allowed Pang to finish the round strongly with punches and short elbows from inside half-guard.
Adrian "The Hunter" Pang picks up the win via TKO after the end of Round 1! @adrianpangmma #WeAreONE #HeartOfTheLion #Singapore #MartialArts pic.twitter.com/cIbpxYaxQ2

— ONE Championship (@ONEChampionship) November 9, 2018
The doctor deemed Shimoishi unable to continue between rounds, giving Pang the victory. Without an official reason announced, it is believed the doctor stopped the fight due to the cut above the eye.
nasty cut, good stoppage, no 3rd eye needed
Adrian Pang > Kota Shimoishi pic.twitter.com/aX4XKT1TxG

— Jolassanda (@Jolassanda) November 9, 2018
Important victory for the Brisbane based fighter who will be hoping he had done enough to earn himself a position in the promotions lightweight tournament scheduled to begin in 2019 and featuring former UFC lightweight champion and recently announced One Championship contracted fighter, Eddie Alvarez.
Earlier on the night, Perth based Scottish Muay Thai George Mann gave Jo Nattawut a tough challenger though ultimately lost a unanimous decision; not before a massive hematoma opened on the 20-year-old's head in the final minute. The bout was contested under the One Super Series Muay Thai rules.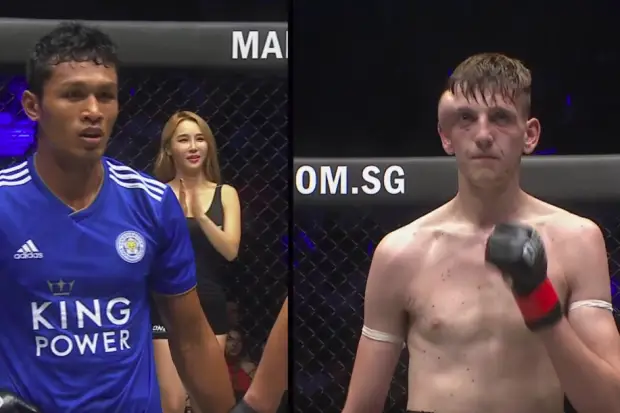 Results (Main Card):
Kevin Belingon (ic) def. Bibiano Fernandes (c) via Decision (Split) – ONE bantamweight title
Christian Lee def. Kazuki Tokudome via TKO (Punches), Rd 1, 3:07
Giorgio Petrosyan def. Sorgraw Petchyindee Academy via Decision (Unanimous) – Super Series (Kickboxing)
Tiffany Teo def. Michelle Nicolini via Decision (Unanimous)
Adrian Pang (Australia/PNG) def. Kota Shimoishi via TKO (Doctor's Stoppage) Rd 1, 5:00
Jo Nattuwut def. George Mann (Scotland/Australia) via Decision (Unanimous) – Super Series (Muay Thai)
Alaverdi Ramazonov def. Andrew Miller via KO, Rd 1, 0:57- Super Series (Muay Thai)
Results (Preliminary Card):
Garry Tonon def. Sung Jong Lee via Submission (Guillotine Choke), Rd 2, 2:04
Dejdamrong Sor Amnuaysirichoke def. Himanshu Kaushik via Submission (Rear-Naked Choke), Rd 2, 4:45
Muangthai P.K.Saenchaimuaythaigym def. Panicos Yusuf via Decision (Unanimous)  – Super Series (Muay Thai)
Shuya Kamikubo def. Muhammad Aiman via Decision (Unanimous)
Xie Bin def. Hisyam Samsudin via Submission (Anaconda Choke), Rd 1, 3:19
Anthony Engelen def. Meas Meul via KO (Head-Kick), Rd 1, 0:39